This is one of our favorite projects for a Victorian exterior paint color scheme. It's warm and comfortable and masculine.  The homeowners call it "The Painted Gentleman".
This beautiful house is a historic home built in 1897 and within a historic district.  It's a Queen Anne Victorian with unique architectural features, which make it stand out.
The new owners were looking for a more elegant and sophisticated design that felt more contemporary but also blended in with their historic neighborhood.  They asked for bright bold colors that would also pair well with the red brick houses on the left and right.
Their goal – which we completely agreed with – was to simplify the color palette with fewer colors.  This was a completely collaborative process that took lots of paint color tests, and we were with them every step of the way!
A Smaller Color Palette
We have found that with historic homes, usually less is more.  We often reduce the number of colors in the paint palette for our clients for a more harmonious look.  Another benefit to using fewer colors is that the paint project is much less expensive.
In this case, we reduced the number of paint colors from six (white, yellow, mint green, dark green, burgundy and gold) to four.  What a difference!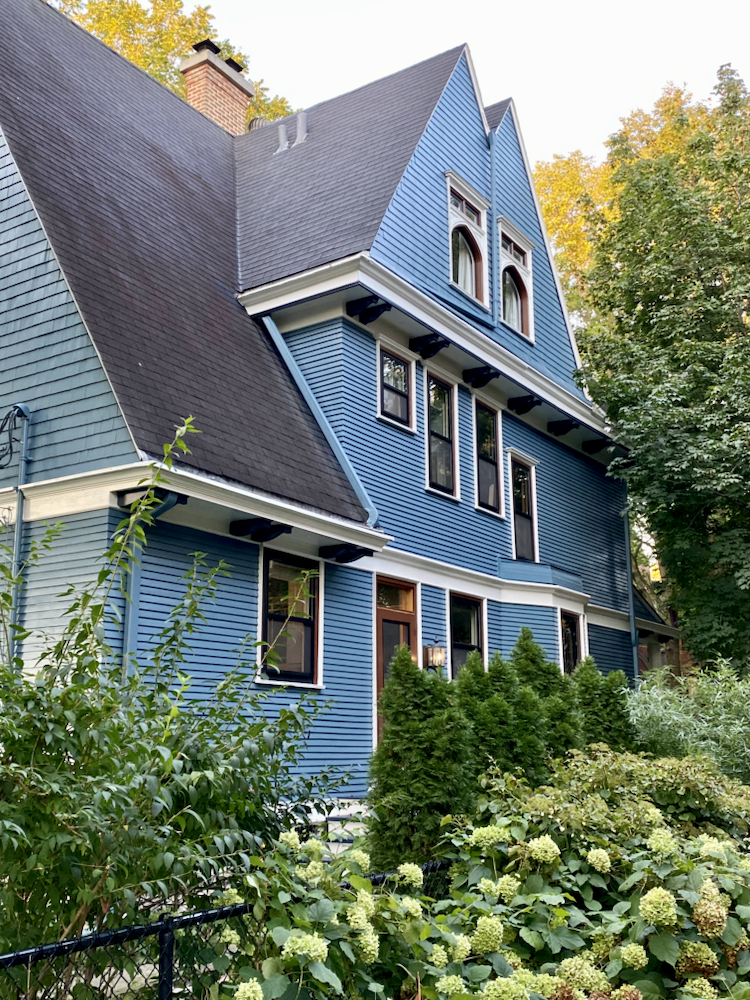 The Paint Color Scheme
This beautiful exterior paint color palette is so modern with mid-toned BM Thousand Oceans for the siding.  It pairs perfectly with the Forest Brown and Hale Navy accents and the White Dove trim.
Thousand Oceans and Hale Navy are both muted enough to be able to pair with the two red brick neighbors.
The White Trim Color
We picked BM White Dove because it looked crisp and bright.  Although White Dove looks like a creamy white inside, it was crisp and white outside.
Whites become substantially brighter when you take them outside, so we usually don't specify White Dove for exteriors, but it was PERFECT here.
White Dove looked softer than expected because the house is generally in the shade, and the sunshine isn't as strong up North as it is in Texas or Florida.  High altitude projects such as Denver, Vail or Aspen also require much warmer whites and more muted tones because the strong UV rays wash out colors and make whites so much brighter.
Front Porch Details
We painted the ceiling white for a brighter entry, and a blue deck was unexpected and simply gorgeous.
The front railing was one of the most unique features of the house.  We reduced the number of paint colors to emphasize the detail.  It might seem counterintuitive, but when you use white paint, you see more details than with many colors.
Window Paint Scheme
We painted the window mullions/frames BM Hale Navy, and the exterior trim was White Dove.  BM Forest Brown was a nice middle accent of Forest Brown for bright transition.
The Verdict
This house looks fresh and modern and honors this historic district with a modern paint color scheme.  Simplification of a color palette can help emphasize architectural detail.
No matter what, don't forget to test your paint colors.  It's a standard best practice.  Whenever I test my paint colors, they are perfect, and when I don't test they turn out wrong. Learn how to test your paint colors here.
NEVER, EVER use paint matches from a different brand than the one you will use.  Results are poor and there are no standards for the sheens.  Even though your painter may truly believe it can be done, don't do it. See results from paint matching here.
We always recommend that you test paint colors in your house because lighting can change a color completely.
In the old days, this meant we painted a large poster board with sample pots and a huge mess.
Now we have SAMPLIZE, 9X14″ Pre-Painted peel-and-stick paint samples.  Check out the SAMPLIZE website HERE
Online Color Consulting
Still, looking for the perfect paint color?  
Discover our ONLINE COLOR CONSULTATIONS! We even offer historic house exterior paint consulting packages.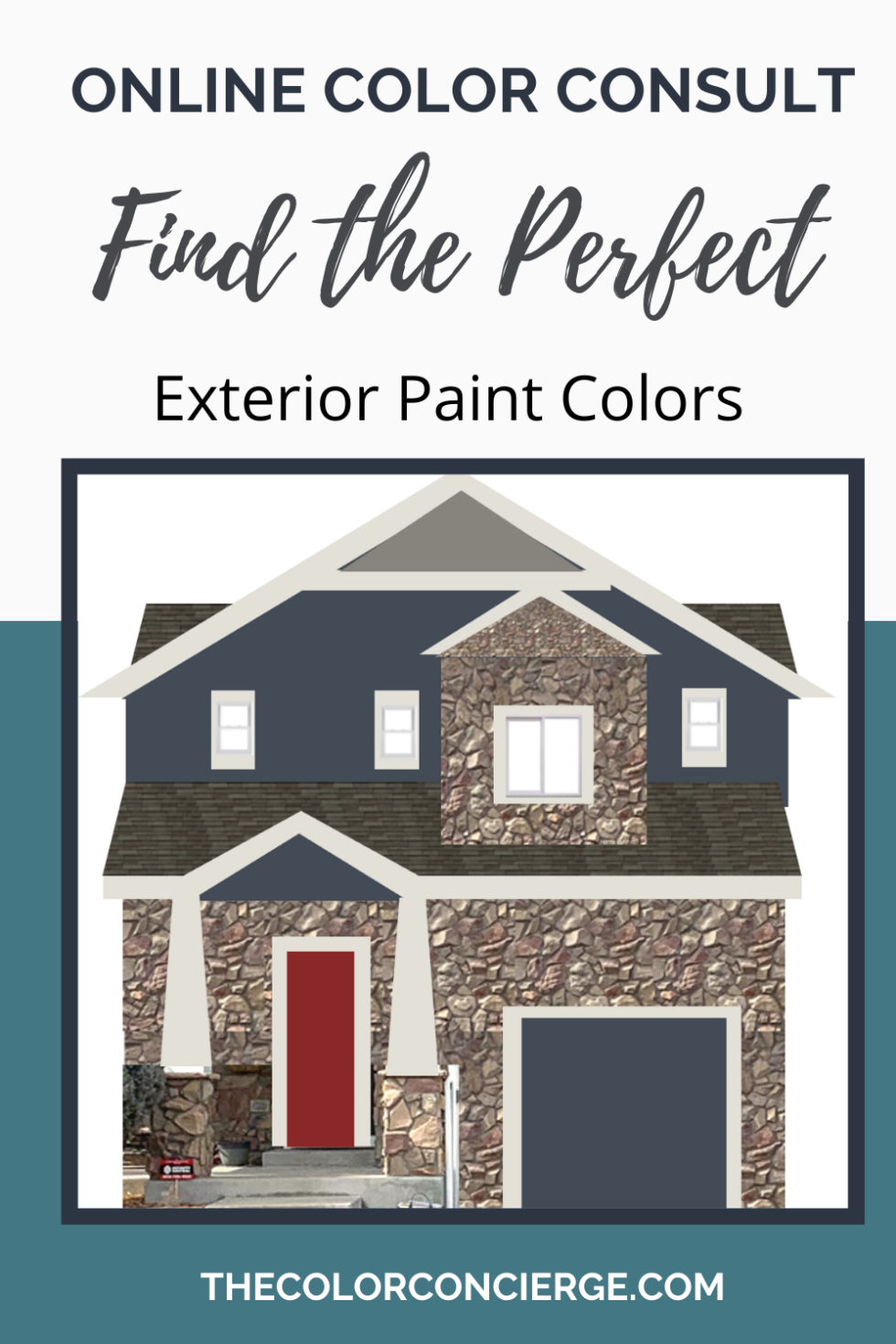 Related Posts
Historic Exterior Paint Color Update 
6 Exterior Paint Color Combos (and how to pick them)
Best Exterior Blue Paint Colors and Palettes
We love your comments! Please note that the blog is meant as general advice, and it is not possible to give out specific answers to your paint questions.  If you want more specific advice, please consider purchasing a color consultation. Thank you for your understanding.