Learn all about Sherwin-Williams Intellectual Gray (SW 7045) in this paint color review.
Sherwin-Williams Intellectual Gray is a beautiful gray paint that offers depth and warmth to any space. I most often use this color for exterior paint, or for single rooms and accent walls indoors.
Outdoors, this color will look significantly lighter than it does indoors. It's a great option if you want a light gray house that won't look washed out in bright sun.
In today's post, I'll be featuring two before-and-after transformations of Intellectual Gray exteriors. These homes were completely transformed by this gorgeous color!
*This post contains affiliate links for products I use and love. If you click on some links and make a purchase, I will get a small commission at no cost to you. This helps pay for the costs of the blog, so I can continue to offer great content to our readers.
What is the LRV of SW Intellectual Gray?
Intellectual Gray has an LRV of 35. LRV stands for Light Reflectance Value, which is a measurement of how light (LRV=100) or dark (LRV=0) a color is.
With an LRV of 35, Intellectual Gray is a lot darker than some of the other popular Sherwin-Williams grays (such as Agreeable Gray with an LRV of 60 and Repose Gray with an LRV of 58).
Intellectual Gray is a mid-tone gray for exteriors and a dark gray when used indoors.
What are the undertones of Sherwin Williams Intellectual Gray?
Intellectual Gray has soft green undertones that harmonize well in natural surroundings. This is one of the reasons I love using this color for exteriors.
Although the undertones are green, this color will look almost perfectly neutral, but in a warm way.
Is Intellectual Gray warm?
Yes, Intellectual Gray is a warm paint color. While its green undertones are soft, they give this color the perfect touch of warmth. It's not at risk of looking cold or stark even in bright sunlight.
Does Intellectual Gray look green?
No, in most applications Intellectual Gray should not look green. Its undertones are very soft, so it usually looks like a warm neutral. Avoid pairing this color with gray paints that have blue or violet undertones, as that can bring out the green in this color and look off on the wall.
When should I use Sherwin-Williams Intellectual Gray?
There are many lovely uses for Intellectual Gray, both indoors and outdoors.
Can I try Intellectual Gray cabinets?
Painted cabinets are one of my favorite ways to use Intellectual Gray indoors. Since you paint cabinets with a shinier sheen than walls, the cabinets will look lighter than this color typically looks indoors.
This is an especially beautiful cabinet color for kitchens or bathrooms that get a lot of natural light or have lots of natural foliage outside.
Pictured below is the kitchen in a model home where we purchased our house. The Intellectual Gray kitchen cabinets look really lovely paired with a white stone countertop and white and gray tile backsplash.
Is an Intellectual Gray accent wall a good idea?
Intellectual Gray is a great accent color! Because it can look dark indoors, I like to use this color for single rooms or single walls.
An Intellectual Gray bedroom or office would be a lovely darker accent within a home, especially if it has furniture with warm wood tones that will bring the color to life. This color could also work well as an accent wall in a dining room, office or even living room.
Is SW Intellectual Gray a good whole house color?
I don't recommend using Intellectual Gray as an interior whole-house paint color. This color is too dark to use throughout a home indoors. It can, however, be a lovely darker gray accent within a whole-house color scheme.
Should I try a Sherwin-Williams Intellectual Gray exterior?
Yes, Intellectual Gray exterior paint is really beautiful! I absolutely love to use this color outdoors. It works really well for homes surrounded by lots of greenery and has plenty of pigment even in areas with high elevation or bright sunlight.
Check out the project spotlights below to see how Intellectual Gray paint completely transformed two clients' homes and explore my favorite SW Intellectual Gray exterior color palettes.
Project Spotlights: Sherwin-Williams Intellectual Gray Exterior Color Palette
Intellectual Gray is a great foundation for an exterior color palette. Just look at the way it transformed these two clients' homes!
Before-and-After: Colorado Home
This beautiful Colorado home has an amazing view and really lovely natural surroundings. The home is located in an open space (wild prairie) in the Denver Northern Plains, which gives it a great view of the mountains, which are about 20 minutes away.
I don't live far from this house and ever since I saw it I've stalking the Zillow listings in that neighborhood. As you can imagine, they rarely go on sale!
The biggest challenge for this home when I first saw it was that although the roof and brick matched each other, they both had a strong pattern and were competing with each other. And the strong, mid-toned green the home was originally painted with (pictured below) was really highlighting those competing patterns.
When we changed the color from green to SW Intellectual Gray exterior paint, the soft neutral gray blended into the roof so that the pattern was minimized.
In fact, when I went back to take the photos below of this home's transformation, I couldn't even remember what problem we had been trying to solve! The natural color palette blended beautifully with the natural setting.
Because the home already had a lot going on with the patterned brick and roof, we kept the exterior color palette simple. Intellectual Gray looks really stunning with a black front door and white exterior trim.
For this home, we used SW Egret White for the trim and the trellis in the backyard. Egret White might be darker than you expect (with an LRV of 70), but it looks soft and lovely outdoors.
We chose SW Tricorn Black as the front door paint color. Tricorn is the deepest of blacks and looks absolutely stunning!
This home's transformation was so lovely! It's amazing to see what a difference the change in paint color made.
Before-and-After: California Home
We also used an Intellectual Gray exterior color palette at this client's suburban home in Southern California. This home was a complete remodel from the studs inside and out.
We went with a simple, modern color palette of SW Intellectual Gray, SW Egret White and SW Iron Ore for the shutters and front door. Iron Ore is a softer, more muted black compared to SW Tricorn Black and has invisible green undertones.
It paired really beautifully with the Intellectual Gray siding and kept the whole palette looking soft and lovely.
This home was originally painted a bright yellow color (pictured above). While yellow exteriors can look lovely, this particular color was not well suited for this home or its surroundings.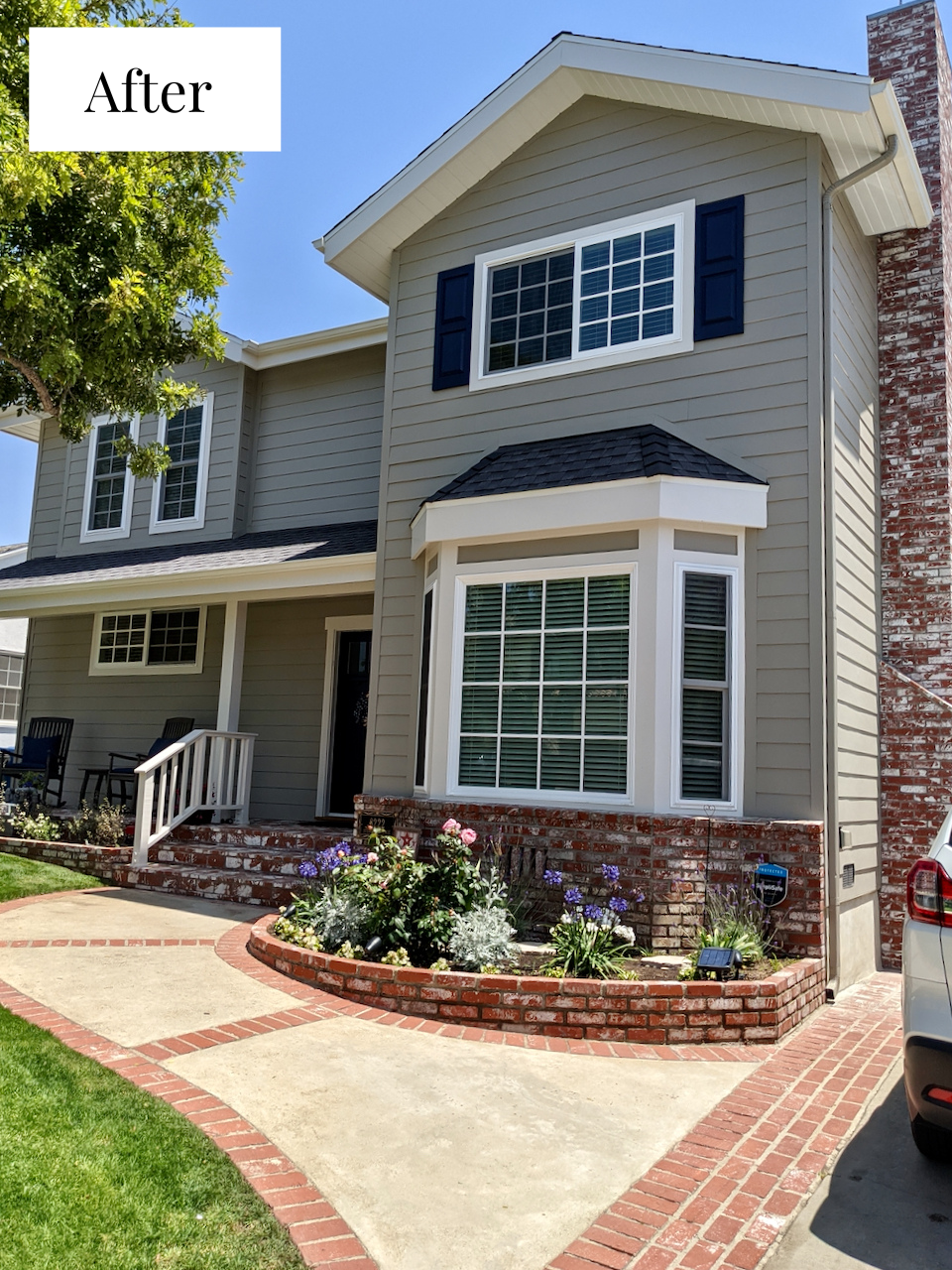 What Are Some Sherwin-Williams Intellectual Gray Coordinating Colors?
Does Intellectual Gray go with white?
Yes, Intellectual Gray looks really lovely with soft white and off-white paint colors. As a warm color, it tends to look best with other warm paint colors, so you don't want to pair it with a white that is too cool.
Avoid white paint with blue undertones and instead opt for creamier whites with soft yellow or even soft pink undertones, such as Egret White (which we used in our Intellectual Gray color palettes above).
Does Intellectual Gray go with black?
Intellectual Gray looks stunning with black paint and fixtures. We used a black front door in both of our exterior palettes, which gave each house a modern (but still classic) look.
If you're using Intellectual Gray indoors, black decor, fixtures and even black interior doors would look beautiful with this color.
Does Intellectual Gray go with brick?
SW Intellectual Gray pairs really well with brick and other natural stone. In our client's brick home, Intellectual Gray allowed the home's brick to shine, while also simplifying the palette and patterns overall.
On the California client's exterior, Intellectual Gray paired beautifully with the red brick accent along the front and the red brick chimney.
What is the easiest way to sample Intellectual Gray?
You should always sample and test your paint colors before using them indoors or outdoors.
The easiest way to sample SW Intellectual Gray (and any paint color for that matter) is via SAMPLIZE. Their peel-and-stick paint samples are easy to use and true to color.
There is no mess, and the cost is less expensive than purchasing a sample and a white poster board. Since you don't need to dispose of the paint, it's also environmentally friendly!
With Samplize you can easily see how different shades look on your unique wall.
Best SW Intellectual Gray Alternatives
SW Intellectual Gray vs SW Amazing Gray
Sherwin-Williams Amazing Gray is similar to Intellectual Gray. Amazing Gray has an LRV of 47, so is lighter than Intellectual Gray. They both have green undertones and offer a similar amount of warmth to a space.
Amazing Gray can flash violet sometimes. It is 12 LRV points lighter than Intellectual Gray, which is pretty significant. Amazing Gray may look too light to be a neutral but too dark to be a white in some locations.
SW Intellectual Gray vs SW Agreeable Gray
SW Agreeable Gray is probably the most popular Sherwin-Williams gray paint on the market today. While it has similar green undertones as SW Intellectual Gray, it has an LRV of 60 and is significantly lighter. It can still work for exteriors but looks much lighter outdoors compared to Intellectual Gray. In very sunny climates, Agreeable Gray will actually look like a creamy white outside, where Intellectual Gray looks like a light warm neutral color.
SW Intellectual Gray vs BM Revere Pewter
Benjamin Moore Revere Pewter is another lovely gray paint color with green undertones. With an LRV of 55, it is significantly lighter than SW Intellectual Gray. Inside, Revere Pewter has strong undertones and looks a bit greener on the wall than Intellectual Gray.
Sometimes I use Revere Pewter as an exterior white trim color paired with a dark body color. Although I adore it inside, outside it can be awkward if it's too light to be a neutral color, but too dark to be a white color. Just make sure you test, test, test!
SW Intellectual Gray vs BM River Reflections
Benjamin Moore River Reflections is probably the closest SW Intellectual Gray alternative. While Benjamin Moore technically classifies this color as a taupe, it has the same LRV as Intellectual Gray (35) and similar green undertones. These two colors look very similar on the wall and work well in the same spaces.
SW Intellectual Gray vs BM Chelsea Gray
Benjamin Moore Chelsea Gray is one of my favorite mid-tone gray paint colors. I've used this color on my own kitchen cabinets and in many exterior applications for my clients. Chelsea Gray is darker than Intellectual Gray, with an LRV of 23. It has similar green undertones but can sometimes flash violet.
Key Learning Points
Sherwin-Williams Intellectual Gray is a beautiful mid-tone gray paint with soft green undertones. It's a lovely color for both interior and exterior applications.
SW Intellectual Gray works really well as an exterior paint color and pairs well with white trim and a black front door. This color will look much lighter outdoors than indoors.
Intellectual Gray can work for interior spaces but is best used as an accent color for a single room or single wall. It can also work well on kitchen or bathroom cabinets.
Intellectual Gray works well as an exterior paint color for homes with lots of greenery and natural surroundings. Its soft green undertones are nearly invisible. This color will look like a neutral, but with lots of warmth.
Remember: NEVER, EVER use paint matches from a different brand than the one specified. Results are poor and there are no standards for the sheens. Even though your painter may truly believe it can be done, don't do it. See results from paint matching here.
No matter what, always test your paint colors. It's a standard best practice. Whenever I test my paint colors, they are perfect, and when I don't test they turn out wrong. Learn how to test your paint colors here.
Online Color Consulting
Still need help picking the best paint colors? Discover our Online Color Consulting Package.
If you liked this post, don't forget to pin it!
We love your comments! Please note that the blog is meant as general advice, and it is not possible to give out specific answers to your paint questions. If you want more specific advice, please consider purchasing a color consultation. Thank you for your understanding.
Related Posts