Learn all about Benjamin Moore Natural Cream (OC-14) in this paint color review.
Natural Cream is a beautiful warm greige paint color that really doesn't get the attention it deserves. I think of it as one of those "forgotten" paint colors that people don't often bring up and that you don't see a lot of reviews of online. But it's one of our favorites to recommend to clients!
BM Natural Cream is similar to some of our other favorite warm greige paints from Benjamin Moore. It has the neutrality of Revere Pewter (color review) but is lighter, and the warmth of Edgecomb Gray (color review), without the occasional flash of violet.
One of the most unusual properties of Natural Cream is that even though it's a greige, it's so clean and fresh that it can look like a darker creamy white inside.
It is crisp, clean, and lovely and can work throughout many different spaces in a home (including the exterior!).
*This post contains affiliate links for products I use and love. If you click on some links and make a purchase, I will get a small commission at no cost to you. This helps pay for the costs of the blog, so I can continue to offer great content to our readers.
What is the Benjamin Moore Natural Cream LRV?
Natural Cream has an LRV of 64.78, which makes it a really beautiful mid-tone paint color. LRV stands for Light Reflectance Value, which is a measurement of how light (LRV=100) or dark (LRV=0) a color is.
Natural Cream is too dark to be a lighter greige like Classic Gray but too light to be one of the more mainstream greiges like Edgewood Gray or Revere Pewter. With its greige undertones, it fills a nice spot in the middle, like Pale Oak (color review, LRV=69) or Balboa Mist (color review, LRV=67).
Natural Cream is light enough that it can help brighten up a space (even with dark hard finishes like the room below). But it has enough depth to not look washed out or stark in rooms with lots of bright, natural light.
In the image below, Natural Cream is the lighter color that looks like a creamy white on the right. The beige wall is an accent wall. These photos are from a kind Color Concierge client in Canada and not professional photographers, but they give a real-life sense of what the colors look like.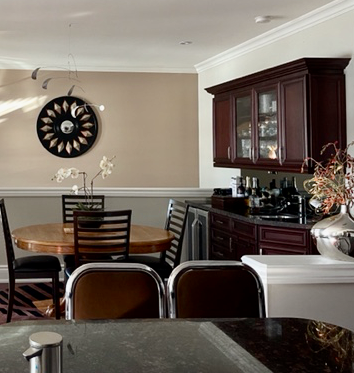 What are the Benjamin Moore Natural Cream undertones?
BM Natural Cream is a warm greige with invisible green undertones. This keeps the color warm, but still versatile. It's similar to some of our favorite Benjamin Moore grays and greiges with green undertones, like Revere Pewter, Edgecomb Gray, and Classic Gray (color review).
Is BM Natural Cream warm or cool?
Natural Cream is a warm paint color, thanks to its green undertones. However, because its undertones are so subtle it can still work well with cooler paint color schemes.
When should I use BM Natural Cream?
Natural Cream is a versatile paint color that can be used in many spaces throughout the home.
Can I try a Benjamin Moore Natural Cream Kitchen?
BM Natural Cream is a lovely wall color for kitchens and can work with a variety of cabinet colors and countertops. While it would look warm and lovely with many white kitchen cabinets, I love using Natural Cream to help brighten up a kitchen with dark wood.
In our client's kitchen (pictured below), deep cherry cabinets, dark wood floors, and black kitchen counters could make this space feel too dark and make it feel smaller than it is.
Using BM Natural Cream on the walls of the kitchen added some much-needed brightness without looking too stark compared to the hard finishes.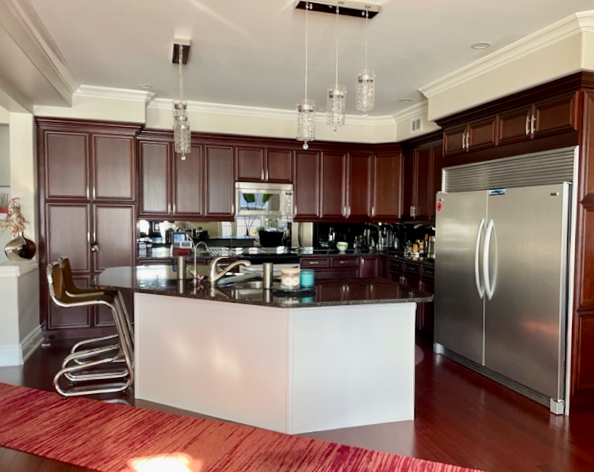 Would Benjamin Moore Natural Cream cabinets look good?
Natural Cream cabinets would look fabulous! This would be a great alternative if you like the idea of a white kitchen but want something with a little more color and depth.
Natural Cream cabinets would have a very similar look and feel to my client's BM Edgecomb Gray cabinets pictured below. They keep the kitchen looking neutral and classic but provide a lot more warmth than traditional white cabinets.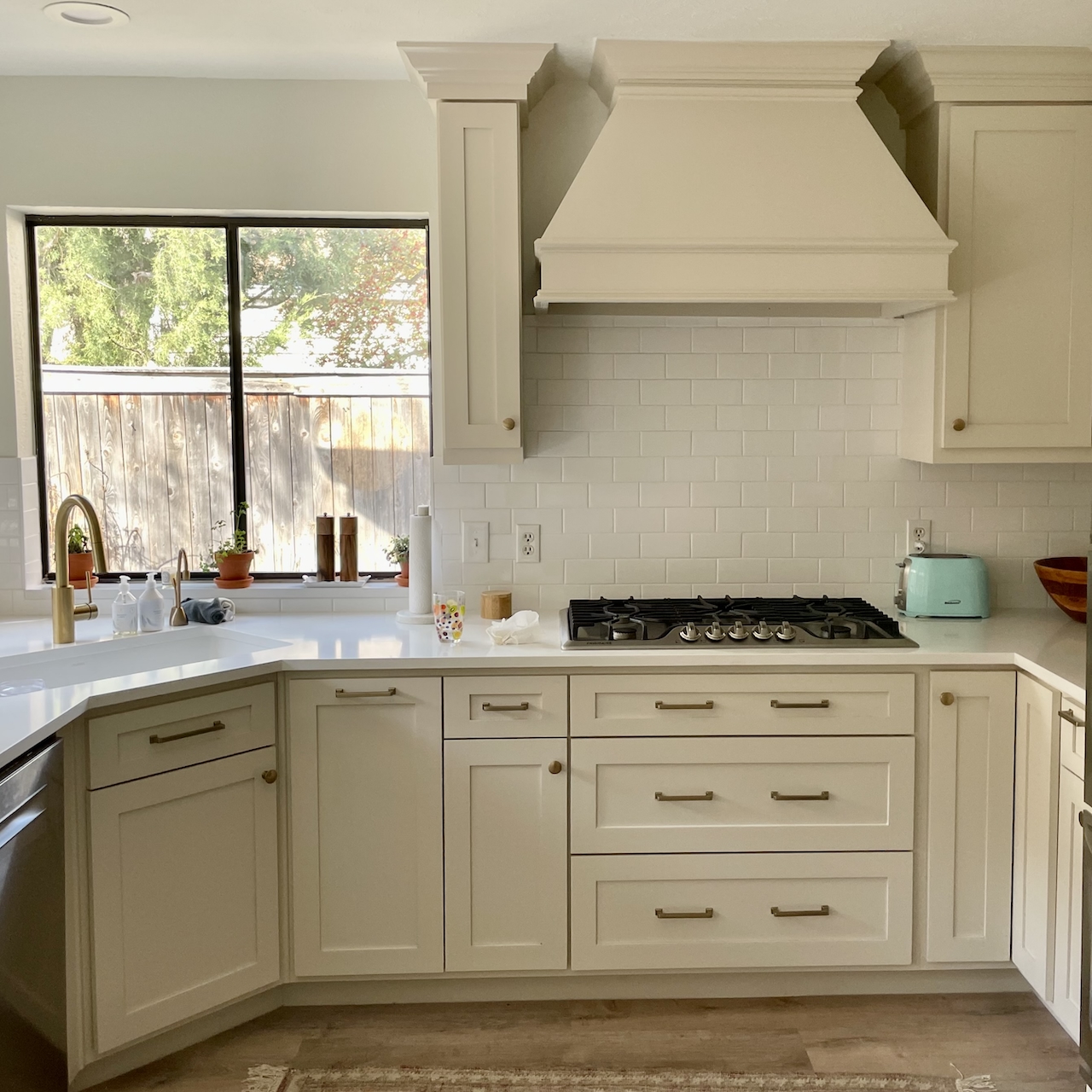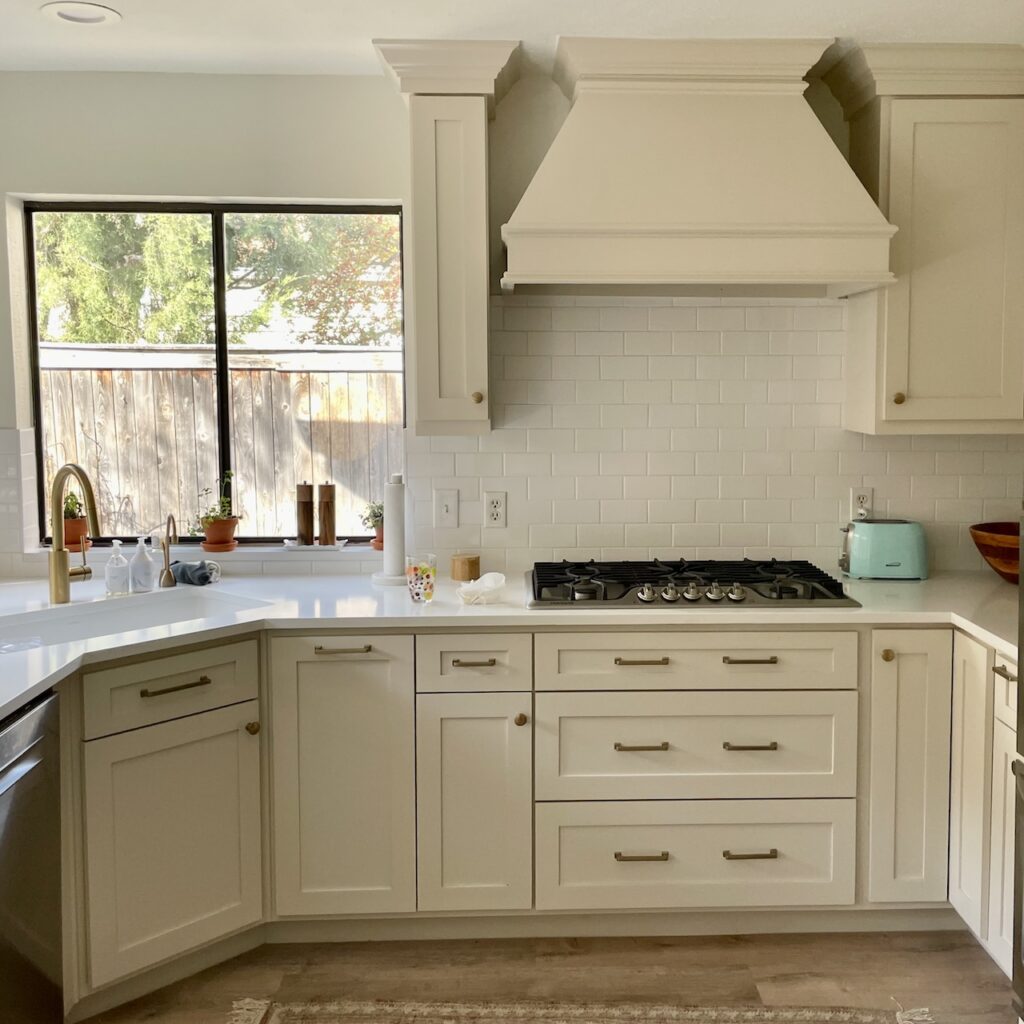 Is BM Natural Cream good for North-facing rooms?
Yes, Benjamin Moore Natural Cream looks really lovely in North-facing rooms. But one of the best things about Natural Cream is that it can also work well in just about any kind of light.
It looks great in North- and South-facing rooms and has enough saturation to flex in rooms with constantly changing light, such as rooms with East and West exposures.
Is Benjamin Moore Natural Cream a good living room color?
Natural Cream works really well as a living room paint color because it can coordinate with a variety of hard finishes, furniture, and decor.
It can add depth and warmth to a bright room with lighter finishes but can also help brighten up a darker space (such as my client's living room below).
Natural Cream looks really lovely paired with the dark cherry floors and black leather couches in this space. It coordinates perfectly with the light area rug in this room and helps tie the whole space together.
Is BM Natural Cream a good whole house color?
Natural Cream is a great option for a foundational whole-house paint color. It's light enough to keep a home feeling bright and airy but has enough warmth and pigment to avoid looking stark in rooms with lots of natural light.
Because it can work in almost any kind of light, it's a great option for use throughout different rooms in the house. It will look slightly different in each space, creating a really beautiful color palette.
I love using this color for large, open-concept spaces too.
Can I use BM Natural Cream exterior paint?
Absolutely! Natural Cream is a wonderful option for a light exterior paint color because it has enough pigment to hold up in bright sunlight.
I've used it as a whole-house exterior paint color, where it tends to look like a cream color without skewing to yellow. Natural Cream exterior trim is also a wonderful choice for a creamy trim that won't look too stark or washed out.
What Are the Best Benjamin Moore Natural Cream Coordinating Colors?
Does BM Natural Cream go with blue?
I love to use creamy paint colors with green undertones alongside dark blues and deep teals. The warm, green undertones of Natural Cream help it bring out the warmth in darker blues like BM Polo Blue, an almost-black navy blue with hints of warm teal. It also looks lovely with mid-tone teals like BM Mount Saint Anne or Farrow & Ball Hague Blue.
Does Natural Cream go with red?
Yes, Natural Cream can work really well with warm red finishes. In my client's home featured in this post, Natural Cream coordinates perfectly with the deep cherry wood cabinets and flooring, as well as a red runner rug in the kitchen and dining area.
Does Natural Cream go with white?
Yes, BM Natural Cream can pair well with many white paint colors. It works best with clean white paints and warm white paints that are not too dark. I would avoid using very crisp, cool white paints alongside Natural Cream because they would look too stark.
What are the Best Trim and Ceiling Colors For Benjamin Moore Natural Cream?
Because this color is so versatile, it can work with a wide range of trim and ceiling colors. Some of our favorite trim colors are BM Chantilly Lace (review), BM Cloud White (review), BM White Dove (review) and BM Swiss Coffee (review).
I would not use Natural Cream with BM Decorator's White trim because it's too stark with cool blue undertones. I would also avoid any creamy white trim color darker than Swiss Coffee because of the low contrast.
What is the easiest way to sample BM Natural Cream?
You should always sample and test your paint colors, but it's especially important with a paint like Natural Cream that can look different from room to room depending on the natural light.
The easiest way to sample Natural Cream (and any paint color for that matter) is via SAMPLIZE. Their peel-and-stick paint samples are easy to use and true to color.
There is no mess, and the cost is less expensive than purchasing a sample and a white poster board. Since you don't need to dispose of the paint, it's also environmentally friendly!
With Samplize you can easily see how different shades look on your unique wall. Check out the SAMPLIZE website HERE. Get 10% off your Samplize order today by using the code "ColorConcierge10" at checkout. Order today and get samples tomorrow!
Other Paint Colors Like Benjamin Moore Natural Cream
Benjamin Moore Natural Cream vs. BM Edgecomb Gray
Natural Cream and Edgecomb Gray are very similar colors. With an LRV of 63, Edgecomb Gray is just slightly darker than Natural Cream. It also has stronger green undertones and looks a bit warmer on the wall.
Benjamin Moore Natural Cream vs. BM Revere Pewter
Benjamin Moore Revere Pewter is another color that is pretty similar to Natural Cream. They both have green undertones, but Revere Pewter has an LRV of 55 and is much darker than Natural Cream.
Benjamin Moore Natural Cream vs. BM Pale Oak
​​Pale Oak is another favorite Benjamin Moore neutral color. While it can work in similar spaces as Natural Cream, the two colors are actually pretty different. Pale Oak is lighter, with an LRV of 69. It also has taupe undertones that can make it look warmer than Natural Cream on the wall.
Benjamin Moore Natural Cream vs. SW Agreeable Gray
Sherwin-Williams Agreeable Gray is one of the most popular greige paint colors on the market today. It has green undertones like Natural Cream, but its undertones are stronger. Agreeable Gray (color review) is also darker than Natural Cream, with an LRV of 60.
Benjamin Moore Natural Cream vs. SW Accessible Beige
SW Accessible Beige is much more of a traditional beige than a greige paint color, but it can sometimes look gray. It has an LRV of 58, so it is much darker than Natural Cream. While it also has warm green undertones, Accessible Beige (color review) can sometimes flash purple in certain light.
Key Learning Points
Benjamin Moore Natural Cream is a lovely and crisp neutral paint color that can work well throughout the home – including as an exterior paint color. It is a flexible color that can pair with a wide range of colors and hard finishes.
Natural Cream is a warm greige paint color with invisible green undertones. It pairs especially well with other warm paint colors.
This greige paint color is a lovely option for use with dark wood and other dark finishes. It brightens up a space without looking too stark next to deeper hues.
Natural Cream can be used as a whole-house paint color and can also work well for exteriors, either as a body paint or trim paint.
Remember: NEVER, EVER use paint matches from a different brand than the one specified. Results are poor and there are no standards for the sheens. Even though your painter may truly believe it can be done, don't do it. See results from paint matching here.
No matter what, always test your paint colors. It's a standard best practice. Whenever I test my paint colors, they are perfect, and when I don't test they turn out wrong. Learn how to test your paint colors here.
Online Color Consulting
Still need help picking the best paint colors? Discover our Online Color Consulting Package.
If you liked this post, don't forget to pin it!
We love your comments! Please note that the blog is meant as general advice, and it is not possible to give out specific answers to your paint questions. If you want more specific advice, please consider purchasing a color consultation. Thank you for your understanding.
Related Posts