Learn all about Sherwin-Williams Accessible Beige (SW 7036) in this paint color review.
While white walls and color palettes may be all the rage on Instagram and Pinterest, all-white color schemes are not for everyone! That's where Sherwin-Williams Accessible Beige comes in.
Accessible Beige, much like the always-popular SW Agreeable Gray, is one of the most trending paint colors on Pinterest today, and one of Sherwin-Williams Top 50 Colors. It is an excellent choice for a whole-home house color or just about any room because it is more muted than many beige colors but not quite a gray.
It's a lovely warm and friendly color that keeps a room feeling light and bright without looking too cold or stark. Today's color review features photographs from my friend's home – and she has done a fantastic job putting it together with SW Accessible Beige as a primary paint color.
*This post contains affiliate links for products I use and love. If you click on some links and make a purchase, I will get a small commission at no cost to you. This helps pay for the costs of the blog, so I can continue to offer great content to our readers.
What is the LRV of SW Accessible Beige?
SW Accessible Beige has an LRV of 58, which is darker than I typically prefer (especially for paint colors used throughout many spaces of a home). I've actually avoided Accessible Beige in the past for this reason. I was so impressed by how pretty it was in my friend Stephanie's home, that it has already become a new favorite in our practice.
This home has moderate light. The living room has expansive West-facing windows and gets flooded with light in the afternoons, while the garden-level basement has big windows but is shaded by a deck that blocks some light. Throughout all of these spaces, Accessible Beige still looks great.
What are the SW Accessible Beige undertones?
Sherwin-Williams Accessible Beige has warm green undertones, but sometimes it can look gray. In certain lighting, such as in my friend's loft (pictured below) at sunset, it can flash purple, but I think that's just the warm light at sunset in a West-facing room.
Is Accessible Beige warm or cool?
Accessible Beige is a warm paint color, thanks to its green undertones. It is more muted and cooler than many other common beige paint colors, but still warmer than a typical gray paint.
Is Accessible Beige darker than Agreeable Gray?
Accessible Beige and Agreeable Gray (review post) are two of the most popular Sherwin-Williams paint colors on the market today. They are both fantastic neutrals that work well in many spaces and with different kinds of lighting.
They are very similar colors but Accessible Beige is slightly darker compared to Agreeable Gray. While both colors have green undertones, Accessible Beige is slightly warmer.
When should I use Accessible Beige?
Can I use SW Accessible Beige as an Interior Trim Color?
I would not recommend using Accessible Beige trim, unless you're going for a contrasting trim look with white walls. Otherwise, Accessible Beige is just too dark to be used as a trim paint in most interior spaces.
It can, however, be used as an exterior trim color. Outside in the bright sunlight, Accessible Beige will look much lighter than indoors – like a cream color. We have also used it as an exterior body color, where it can look more creamy than neutral depending on how much sun exposure there is.
Can I try an SW Accessible Beige kitchen?
Accessible Beige is a beautiful kitchen color for walls. It's a great option if you want a classic, light kitchen but don't want to use white or gray walls.
This Accessible Beige kitchen is a great example of pairing traditional white cabinets with a warm wall color for a kitchen that is bright but also warm and inviting. The cabinets in this kitchen are SW Pure White, a warm white with subtle yellow undertones that keep it from looking too stark.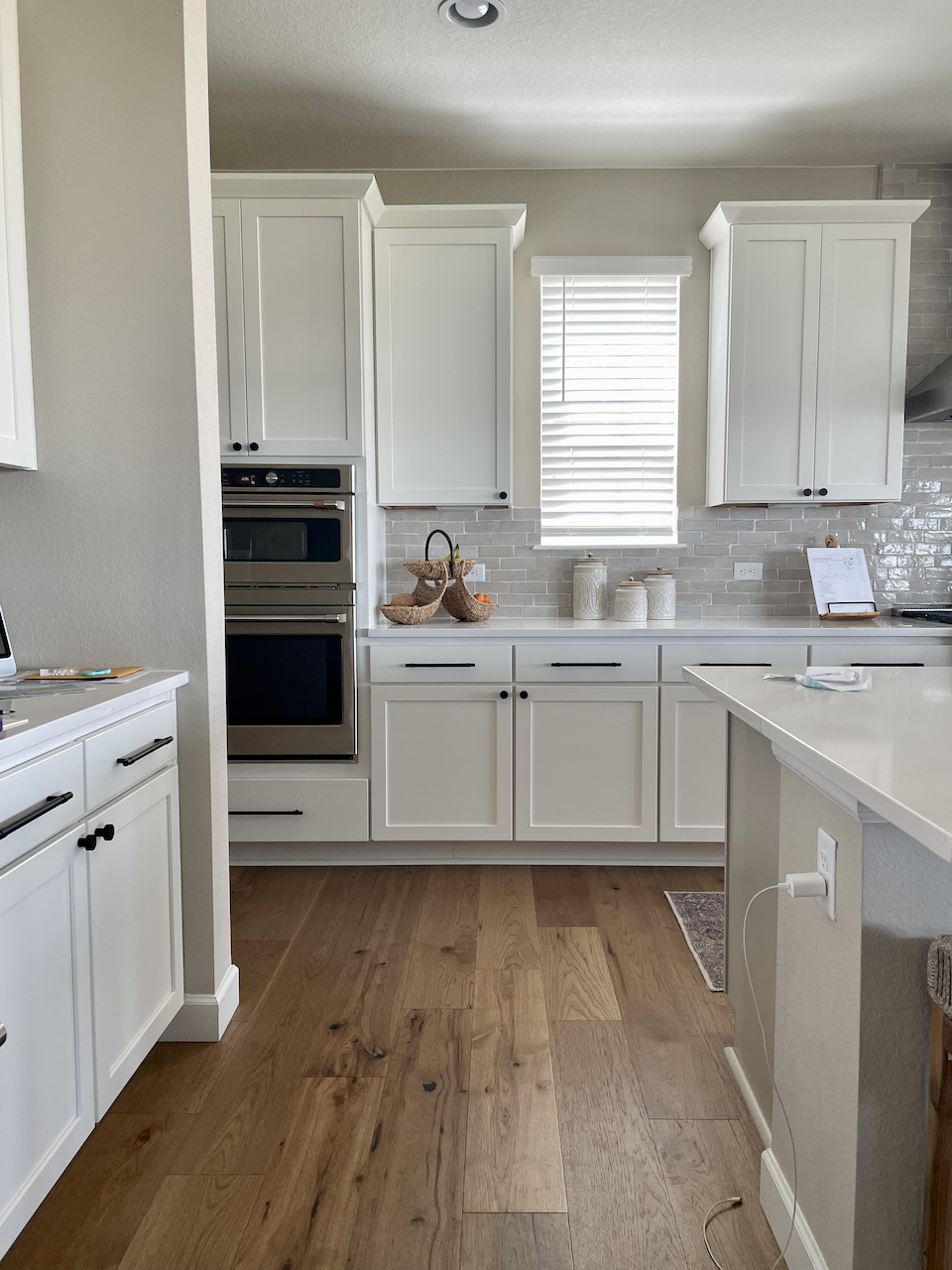 Accessible Beige is also a great choice for an open-concept kitchen and living area. It's light enough to use throughout an entire living space and a neutral color that works well with many types of furniture, decor and other hard finishes.
In this home, continuing the Accessible Beige walls from the kitchen into the living room and sunroom help the main level feel cohesive.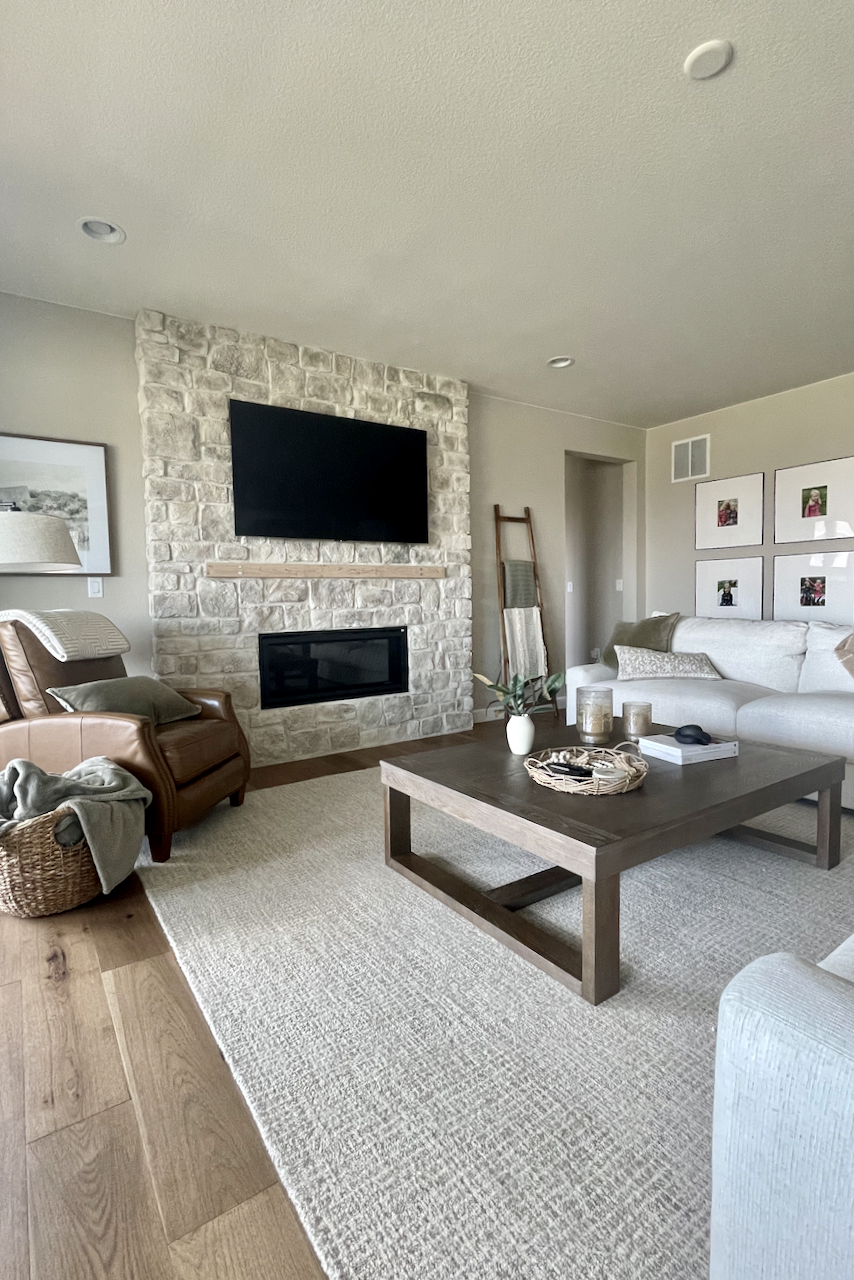 Is Accessible Beige a good basement paint color?
An Accessible Beige basement is a fabulous choice for many homes. When choosing basement paint colors (post), it's important to consider natural and artificial light sources. While it can be tempting to paint a basement in the lightest color possible to brighten up the room, many light paint colors (especially whites) can look dingy without enough natural light.
SW Accessible Beige is light enough to keep a basement space looking bright with enough pigment to bring warmth and color to a room.
In this walk-out basement living room, the natural light keeps Accessible Beige looking warm and bright.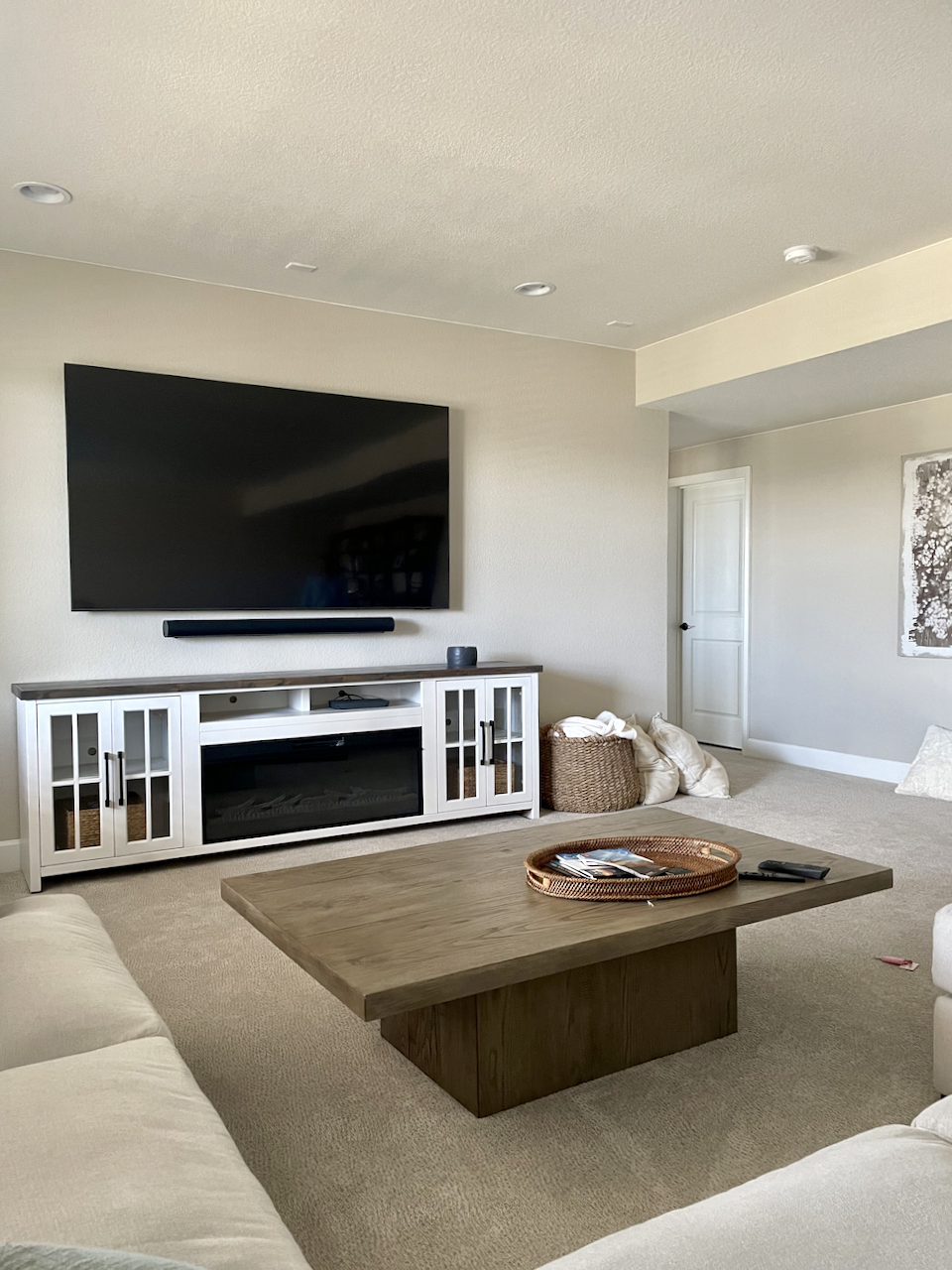 But even in the darker parts of the basement, this color holds up even in the shadows.
Is an Accessible Beige bedroom a good idea?
An Accessible Beige bedroom is a beautiful thing. This warm neutral paint color is dark enough to create a cozy, calming bedroom space without overpowering the room or making it feel too dark.
And because the color changes so much depending on the natural light, you can paint two bedrooms with Accessible Beige walls and they'll each have their own unique look.
In Stephanie's basement bedroom (pictured below), for example, there is less natural light and the color looks a bit more muted, although still warm.
In the primary bedroom on the second level, however, large windows with moderate natural light keep the color looking warmer, and more vibrant. I love the way the soft blue-green bedding contrasts with this neutral.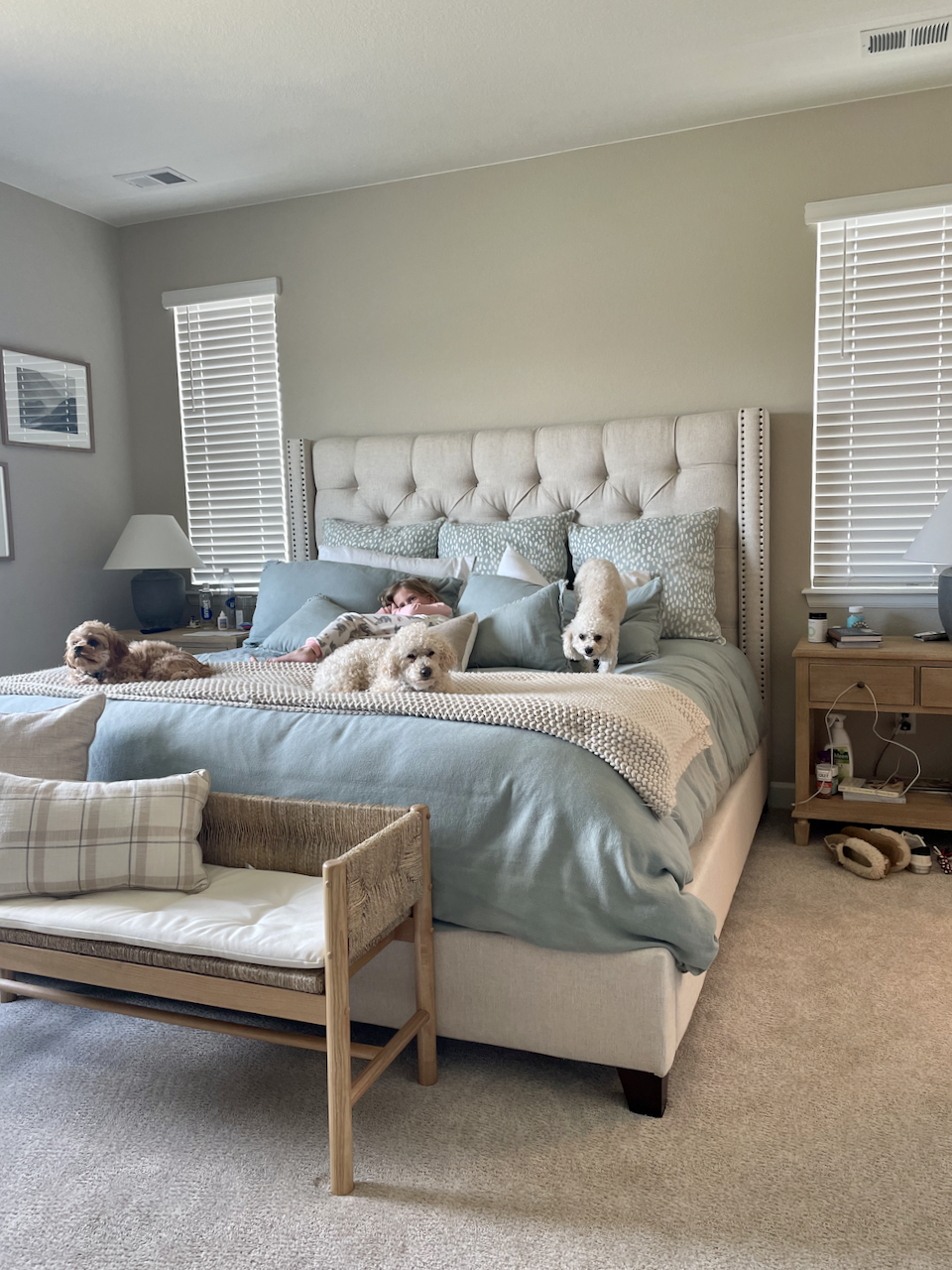 Should I try an Accessible Beige bathroom?
Sherwin-Williams Accessible Beige is a great color for a bathroom, especially because many bathrooms don't have a lot of natural light.
Accessible Beige has enough pigment and warmth from its green undertones that it still looks warm and lovely even in a bathroom without windows, like the bathroom pictured below.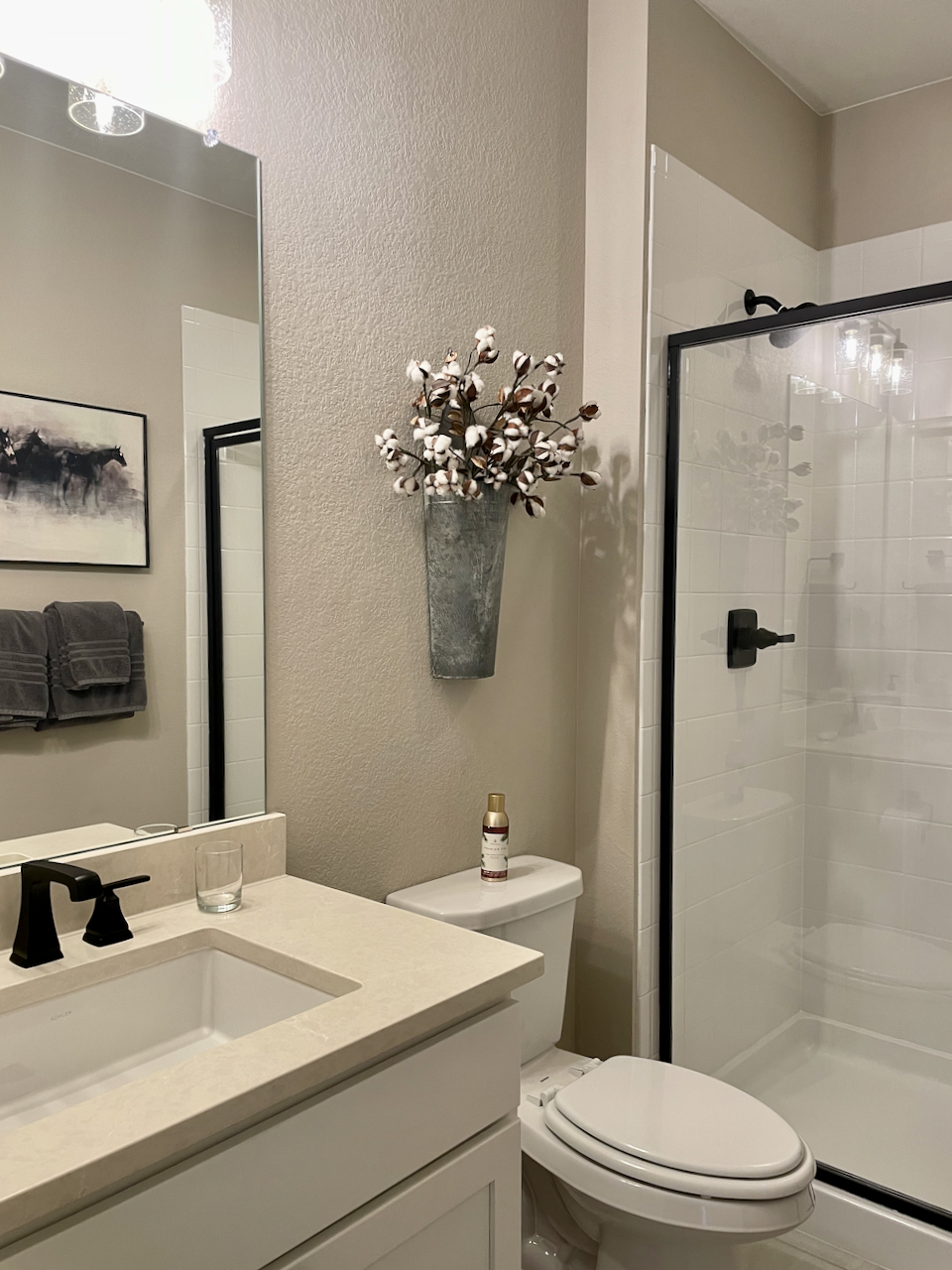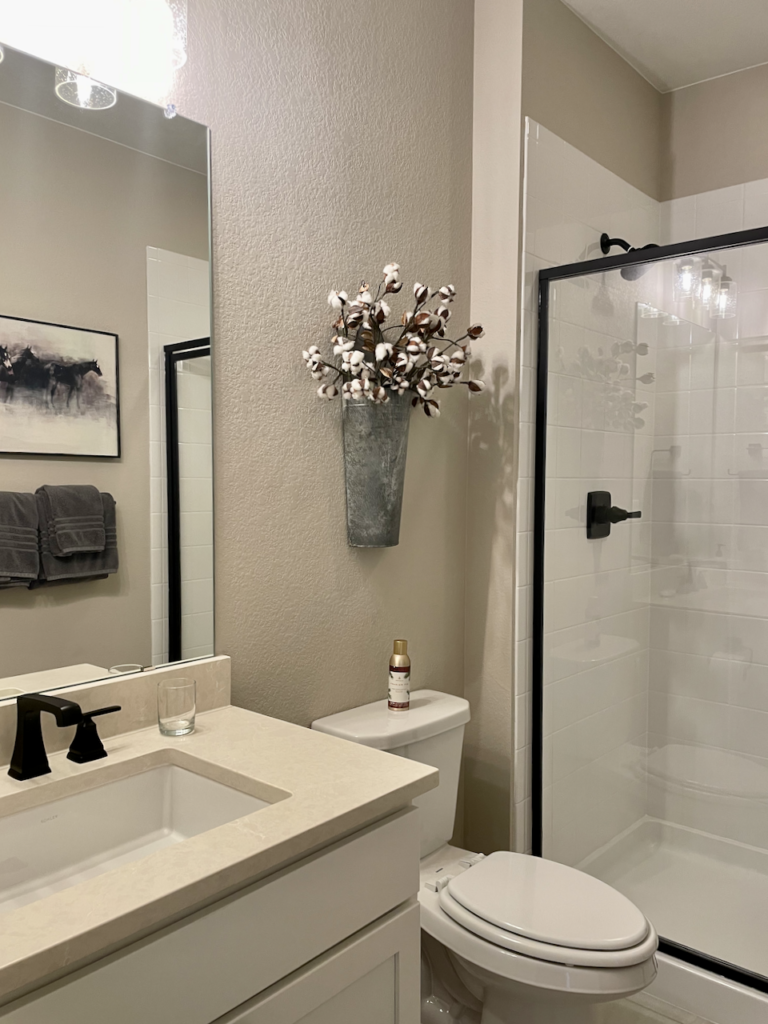 Is SW Accessible Beige a good whole house color?
Absolutely! Accessible Beige is the primary paint color used throughout this home and it looks really beautiful in so many different spaces. It works so well because it changes in different light – it looks like a different paint color every time you look at it!
When flooded with light, it looks almost white (such as in the bright entryway pictured below). But in the corners, it can look like a warm gray. Our plan is to paint the interior front door SW Iron Ore (color review) to tie in with the black accents in the entry and the dining room next door.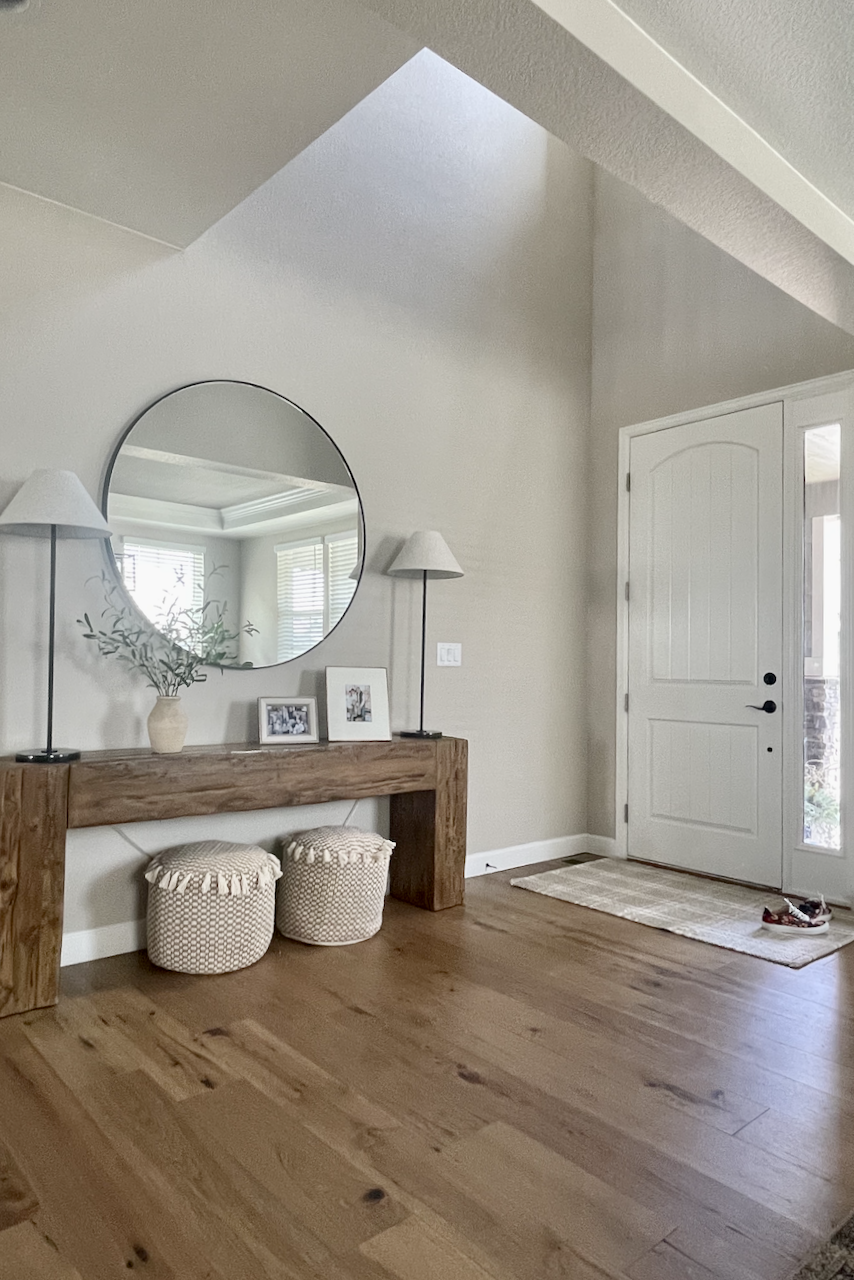 When building a whole-house color palette (article), I love colors like this one that change with every type of light and still end up looking pretty. It's a great choice for an open-concept living area because it keeps the space tied together without looking too monochromatic.
Which Colors Look Best with Sherwin-Williams Accessible Beige?
Does Accessible Beige go with white?
Accessible Beige works really nicely with many white paint colors, but choose your white paint carefully.
One interesting observation I made about Accessible Beige in my friend's home is that even though the ceilings and trim were a very crisp Extra White (color review), they looked creamy. This is because the Accessible Beige reflected off those white surfaces.
I've seen this happen before with darker beige walls, but not with lighter beige colors. It's also not an effect I see with gray paint as often unless the walls are very dark gray.
If you are using white trim and ceiling paint – or even using Accessible Beige as an accent wall in an otherwise white room – be sure to avoid whites that are already very creamy or they may end up looking too yellow.
Does SW Accessible Beige go with black?
Accessible Beige looks gorgeous with black accents. In this home, there were many spaces that paired Accessible Beige walls with black furniture and hard finishes.
I especially love Accessible Beige with the black accents in the dining room in this home, from the frame on the wall to the lighting fixture.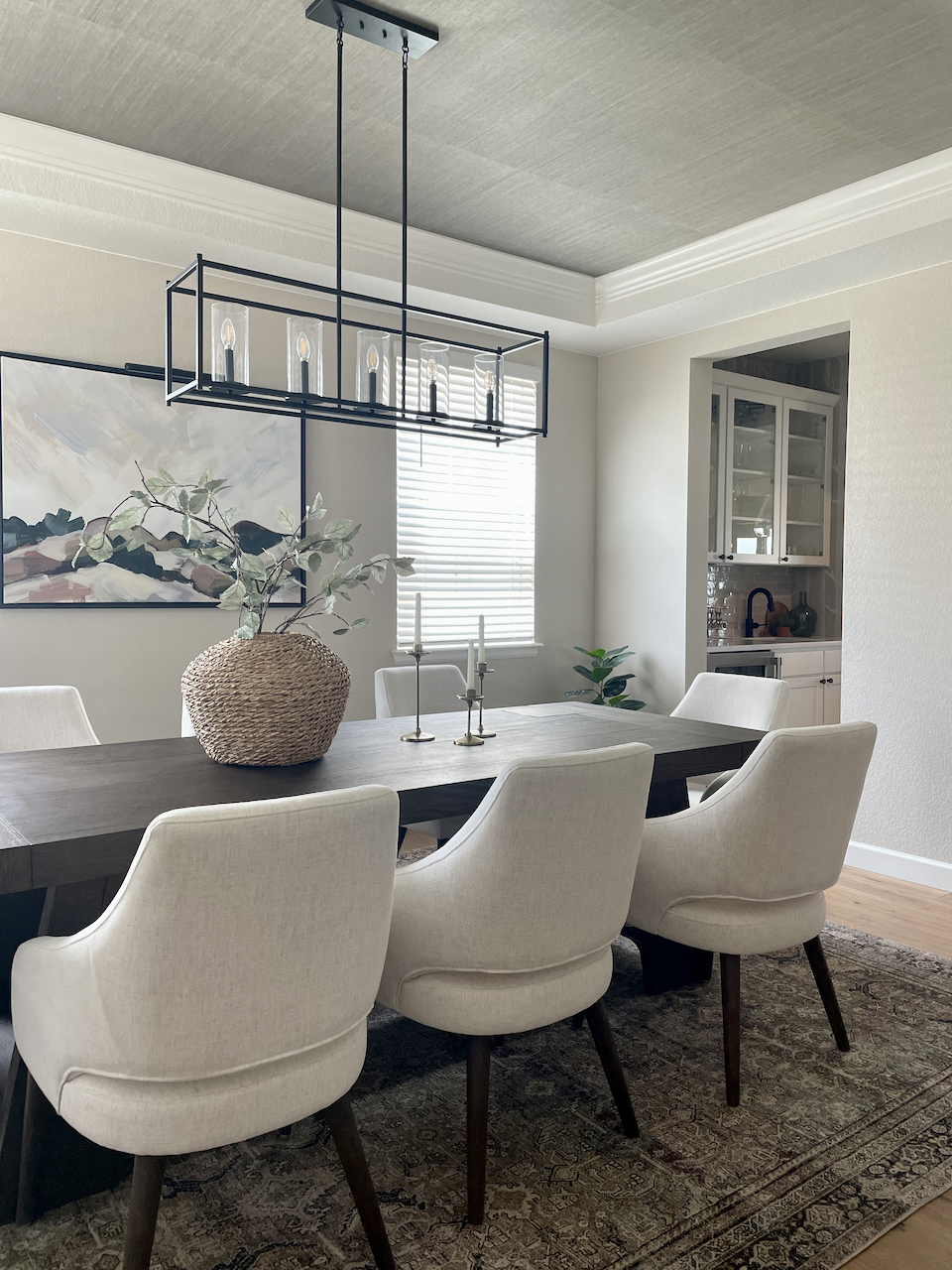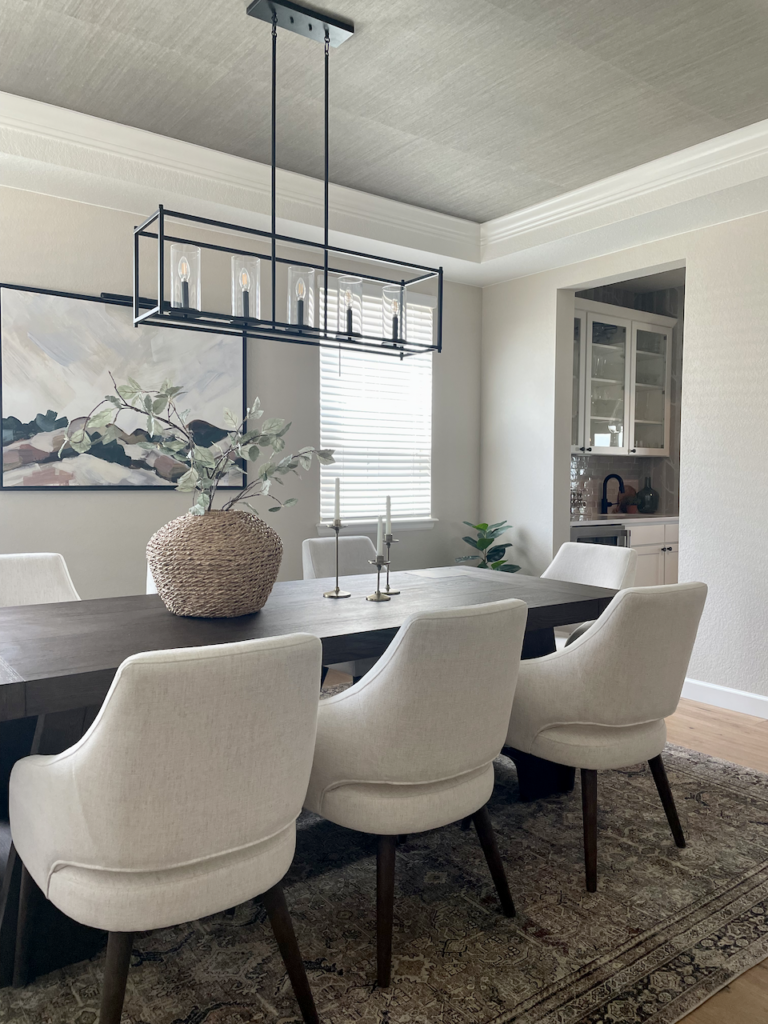 Does Accessible Beige go with green?
Accessible Beige looks really nice with other warm colors, especially greens and other paints with green undertones. The dining room ceiling, pictured below, is a great example of a muted green paired with Accessible Beige.
The muted green is dark enough that Accessible Beige isn't reflecting and making it overly creamy. And the warm tones of the green ceiling wallpaper add a subdued pop of color to this otherwise neutral room.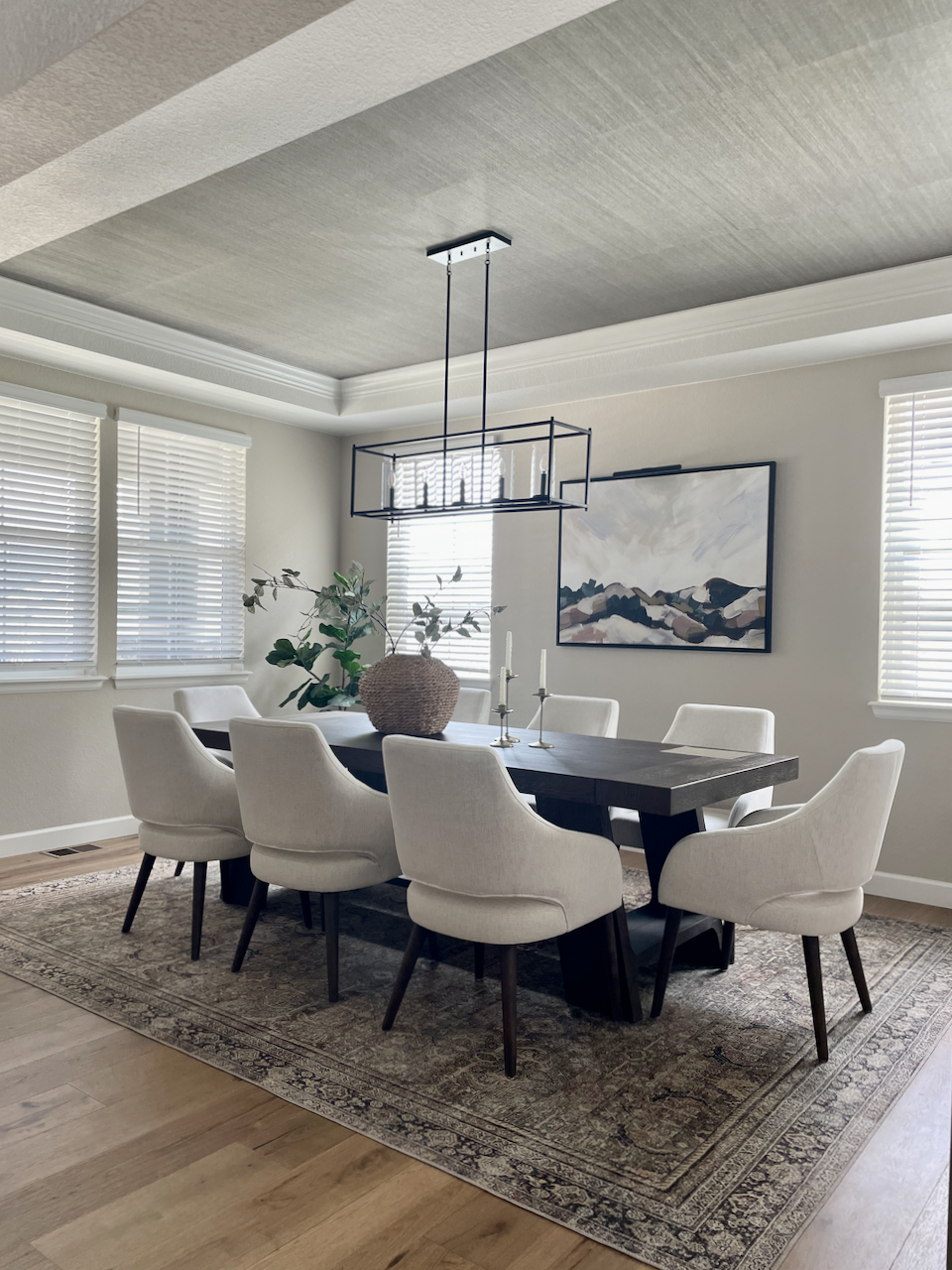 What are the Best Trim and Ceiling Colors For SW Accessible Beige?
Because Accessible Beige can reflect off white surfaces, I recommend choosing crisper whites for ceiling and trim paint. This will ensure that your trim and ceiling don't end up looking yellow.
Sherwin-Williams Extra White (the most popular trim color in the U.S.), High Reflective White and Pure White are all good options for Accessible Beige trim.
What is the easiest way to sample Sherwin-Williams Accessible Beige?
You should always sample and test your paint colors, but it's especially important with a paint like SW Accessible Beige that can look so different from room to room depending on the time of day or the amount of natural light.
The easiest way to sample Accessible Beige (and any paint color for that matter) is via SAMPLIZE. Their peel-and-stick paint samples are easy to use and true to color.
Their peel-and-stick paint samples are easy to use and true to color. There is no mess, and the cost is less expensive than purchasing a sample and a white poster board. Since you don't need to dispose of the paint, its also environmentally friendly!
With Samplize you can easily see how different shades look on your unique wall.
The Best SW Accessible Beige Alternatives
SW Accessible Beige vs BM Revere Pewter
Accessible Beige is just a bit lighter than Revere Pewter, which has an LRV of 55. The colors have similar green undertones, but Accessible Beige is warmer than Revere Pewter and looks much more beige than gray.
SW Accessible Beige vs SW Agreeable Gray
Both colors have warm green undertones, but SW Accessible Beige is warmer. Agreeable Gray is also a bit lighter than Accessible Beige, with an LRV of 60. Still, if Accessible Beige looks good in a room, Agreeable Gray will look good too.
SW Accessible Beige vs. BM Edgecomb Gray
Benjamin Moore Edgecomb Gray is another good alternative for Accessible Beige. Edgecomb Gray is lighter, cleaner and cooler than Accessible Beige, with an LRV of 63, but both colors have warm green undertones and would work well in similar settings.
SW Accessible Beige vs. SW Balanced Beige
While their names may be similar, Accessible Beige and Balanced Beige are very different. Balanced Beige has an LRV of 46, making it much darker than Accessible Beige. Balanced Beige is warm, but its grayed-out taupe undertones keep it looking a bit cooler on the wall.
SW Accessible Beige vs. BM Natural Linen
Natural Linen has an LRV of 60, making it just barely lighter than Accessible Beige. Natural Linen has orange undertones, so it is a bit warmer and more like a traditional beige than the more muted Accessible Beige.
Which Benjamin Moore or Behr Paint Color is most like Accessible Beige?
The simple answer is…. there isn't one. Accessible Beige is one of a kind, and I haven't been able to find an equivalent. Don't even consider paint matching this color to another brand… I've never seen it be successful. Contrary to Urban Myth, paint manufacturers DON'T share formulas (i.e. trade secrets) with each other. Even if they did, they wouldn't turn out the same. They all have different bases with different undertones.
If you want a lighter version of Accessible Beige, pick a lighter color, don't ask for 25% lower or something like that. Those are all art projects and science experiments. One of my favorite lighter versions of Accessible Beige is Sherwin-Williams White Duck.
Key Learning Points
Sherwin-Williams Accessible Beige is a warm, neutral paint color that can work well in just about any space in the home. It's a very versatile color, thanks to its shifting hue in different lighting.
SW Accessible has warm, green undertones. It pairs well with other warm colors and hard finishes.
Accessible Beige can reflect on white trim and ceiling paint, so be sure to choose a crisp white paint for those accents, such as SW Extra White, Pure White or High Reflective White.
SW Accessible Beige makes a beautiful whole-house paint color. It works just as well in bright, open living spaces as it does in basements or bathrooms.
If you want to use Accessible Beige, just get the Sherwin-Williams version. Don't paint match.
Remember: NEVER, EVER use paint matches from a different brand than the one specified. Results are poor and there are no standards for the sheens. Even though your painter may truly believe it can be done, don't do it. See results from paint matching here.
No matter what, always test your paint colors. It's a standard best practice. Whenever I test my paint colors, they are perfect, and when I don't test they turn out wrong. Learn how to test your paint colors here.
Online Color Consulting
Still need help picking the best paint colors? Discover our Online Color Consulting Package.
If you liked this post, don't forget to pin it!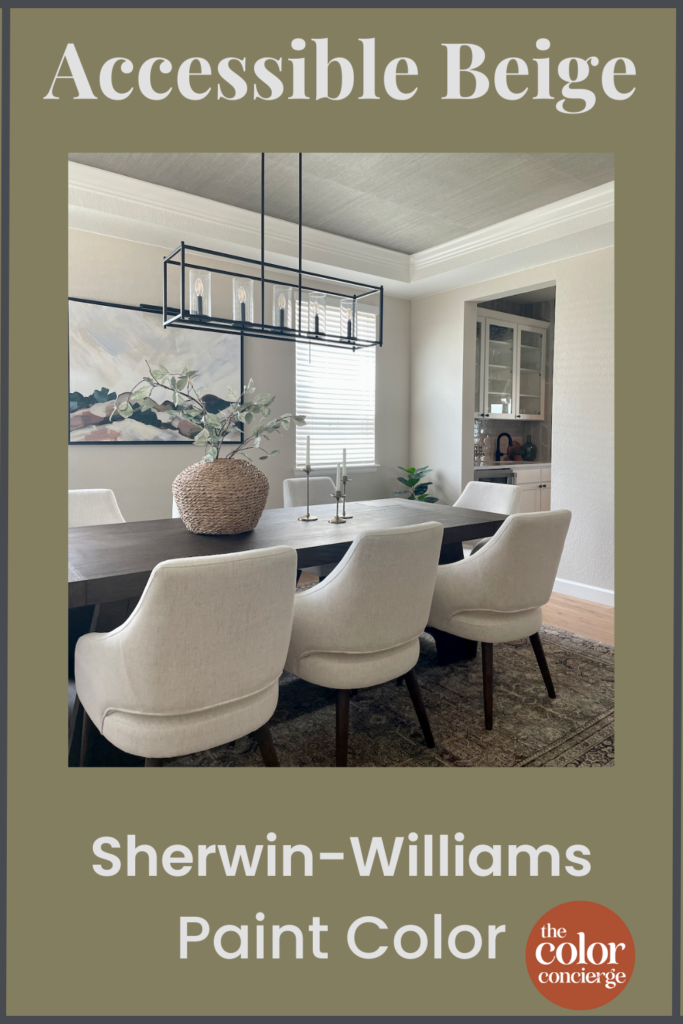 We love your comments! Please note that the blog is meant as general advice, and it is not possible to give out specific answers to your paint questions. If you want more specific advice, please consider purchasing a color consultation. Thank you for your understanding.
Related Posts: