The Benjamin Moore Paint Color of the Year 2024 Blue Nova has officially been announced, and its corresponding Color Trends 2024 palette is on track to start trending.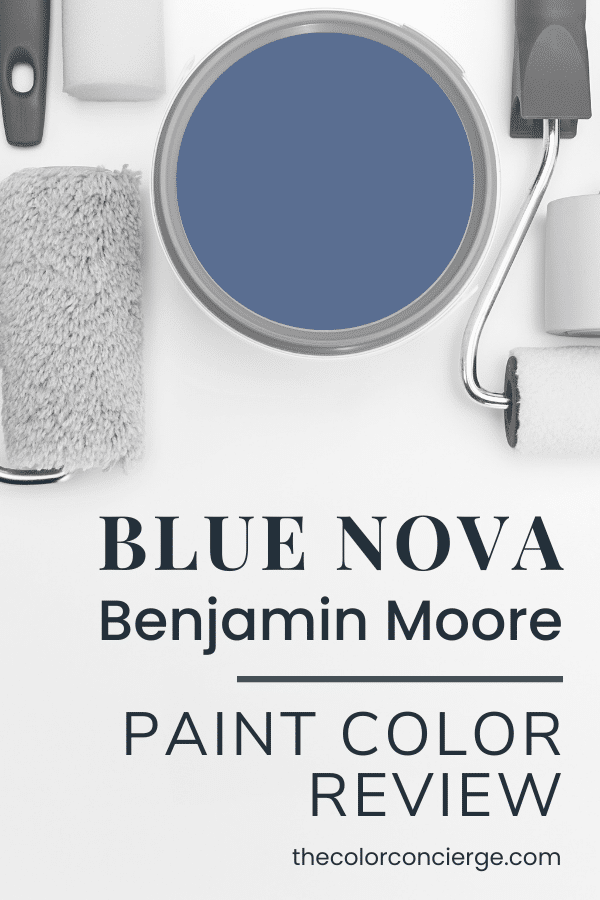 Blue Nova is the Benjamin Moore 2024 Color of the Year, and it's a bold, striking hue perfect for anyone looking to add more color to their home this year.
According to Benjamin Moore Color Marketing and Development Director Andrea Magno, "Blue Nova 825 is an alluring mid-tone that balances depth and intrigue with classic appeal and reassurance."
This fresh blue paint color has a strong mix of violet that adds depth. It works best in homes with soft white finishes and can be used as everything from an accent wall color to an office paint color and beyond.
In this post, I'll review Benjamin Moore Blue Nova and show how you can use the entire BM Color Trends 2024 palette throughout your home.
All of these paint colors are available in Benjamin Moore paint stores nationwide.
Note: We used photos courtesy of Benjamin Moore because we don't have most of these in our collection of projects yet, but aren't compensated by them.
*This post contains affiliate links for Samplize products. If you click on some links and make a purchase, I will get a small commission at no cost to you. This helps pay for the costs of the blog, so I can continue to offer great content to our readers.
What does The Color Concierge think about Benjamin Moore Blue Nova?
Here are our first impressions of the 2024 Color of the Year:
Michelle Marceny: Founder, Lead Color Designer:
Blue Nova is a beautiful and rich forward-thinking color, but ahead of its time by about two years. It is a great promise of things to come as we move into more colorful palettes with a coastal flair.
The color is beautiful, but it is so fresh that it doesn't naturally flow with many of the color schemes in homes today. Most homes in North America are decorated with many muted neutrals, and different shades of white, gray, taupe, or beige.
I love that the overall palette includes White Dove, which is an iconic neutral white that will balance the freshness of the Blue Nova.
Even more relevant is that most people aren't used to working with rich vivid paint colors. Now as many homes have moved into the white with black Farmhouse trend, colors are welcomed as accents in homes because so many things go with white walls.
The Verdict: We will be seeing more of Blue Nova and other colors like it, and I plan to integrate it into my color design practice as an accent throughout client homes.
Maddie Camilli: Senior Color Designer
Blue Nova is a soft yet rich shade of blue with strong violet undertones that make it cool and soothing. As we move through the tail end of the White Trend and into more color, it makes perfect sense why our new BM color of the year is blue. Like BM Raspberry Blush of 2023, Blue Nova offers us a splash of color for our homes. Compared to Raspberry Blush though, Blue Nova is easier to incorporate in the home because blue is a more approachable color for most people than electric pink.
I imagine this color as a lovely accent wall in a transitional or contemporary style home. I wouldn't suggest using this tone with earthy finishes like granite or travertine tile because the purple undertones make it a cool color, where earthy finishes call for warmer tones. It is a perfect complement to a home with quartz, marble, subway tile, wood floors, and blue-gray or violet-gray tones in the furniture.
Below we have tips for how to use Blue Nova. Let's go!
What kind of color is Benjamin Moore Blue Nova?
BM Blue Nova is a darker, fresh blue, bordering on purple. It has an LRV of 17, which makes it light-absorbing. But it's light enough and has plenty of pigment that it won't risk looking too dark on the wall.
Blue Nova's cool violet undertones give it a bit more depth and visual interest. It's a great choice if you're looking for a dark paint color but still want plenty of color in your home.
Can you use BM Blue Nova as an interior whole-house color?
No, Blue Nova would not be a good interior whole-house color. It's much too dark and too bold for an entire home. It may become overwhelming in a large, open-concept space or throughout an entire home.
It is, however, a beautiful paint color for single rooms, accent walls, and other details throughout a home, including in home decor.
How can you use Blue Nova as a paint color in your home?
I would use BM Blue Nova as a wall color in an office (if you really love blue) or as a paint color for a bedroom or even a striking dining room.
For most homes, however, this color will likely work best as an accent color throughout the home. Adding a Blue Nova accent wall to a bedroom, for example, is a simple way to add a pop of color to even a very neutral home.
Should I try BM Blue Nova cabinets?
I love blue kitchen cabinets, and with the right color scheme, they could be fantastic, especially as a lower tuxedo cabinet color. It may not flow very well with today's existing color schemes.
This color won't look good with muted quartz countertops unless they are bright white. I can see it as a lower cabinet color with a white subway backsplash, Chantilly Lace uppers, and cool Carrara marble.
Blue Nova can look great as a built-in color, especially as part of a monochromatic accent wall.
Would BM Blue Nova exterior paint work?
Blue Nova is not the best choice for a siding color. It would be a bit too electric in the bright sunshine. But it could make a really fun front door paint color.
What colors work well in a COTY Blue Nova color palette?
In addition to naming Blue Nova its 2024 Color of the Year, Benjamin Moore also released a coordinating Color Trends palette featuring 9 other gorgeous paint colors.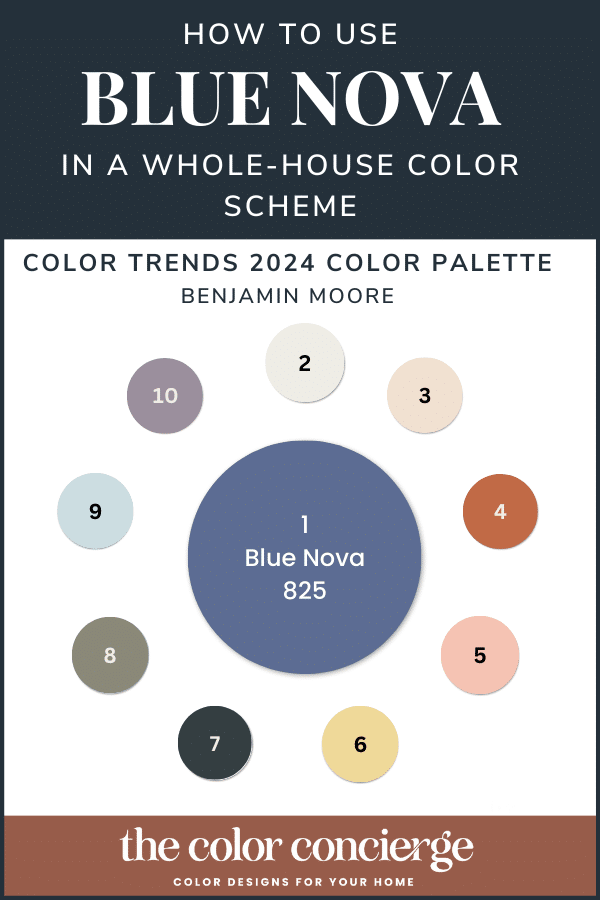 The Color Trends 2024 palette can be used as a guideline for a whole-house color scheme.
Overall, this palette features some bold, bright colors along with some classic neutrals. We've heard from many clients who want more color in their home and this Benjamin Moore palette seems to support color as a trend this year, with less of a focus on gray, beige, and greige.
As you explore the 2024 Color Trends, note that the colors in this palette aren't just for paint colors. You can also use them for decor and other accents. Weave the colors into your accent pillows, furniture, rugs, and art. You might even discover you already have many of the colors in your home.
Keep reading for a look at the best ways to use all the colors in this BM Blue Nova color palette.
Whole House Paint Color – BM White Dove
For whole-house color schemes, we like to start with a foundation neutral as the color that you would paint the Open Layout area, other common areas such as staircases and hallways, and even the whole house.
We recommend Benjamin Moore White Dove for this purpose. White Dove is an iconic Benjamin Moore off-white paint color that is versatile, warm, and lovely. With an LRV of 85, it has soft invisible yellow undertones but grayed out so you can hardly see it. Use White Dove for walls, ceilings, trim, molding, or cabinets – it's a beautiful, versatile color!
We've used BM White Dove in our clients' homes for many years. It's a great choice for a whole-house paint color that can be used on the walls and as a trim and ceiling color throughout the home. Shifting the paint sheen on the trim and ceiling is enough contrast for this color to bring out the architectural details in a room.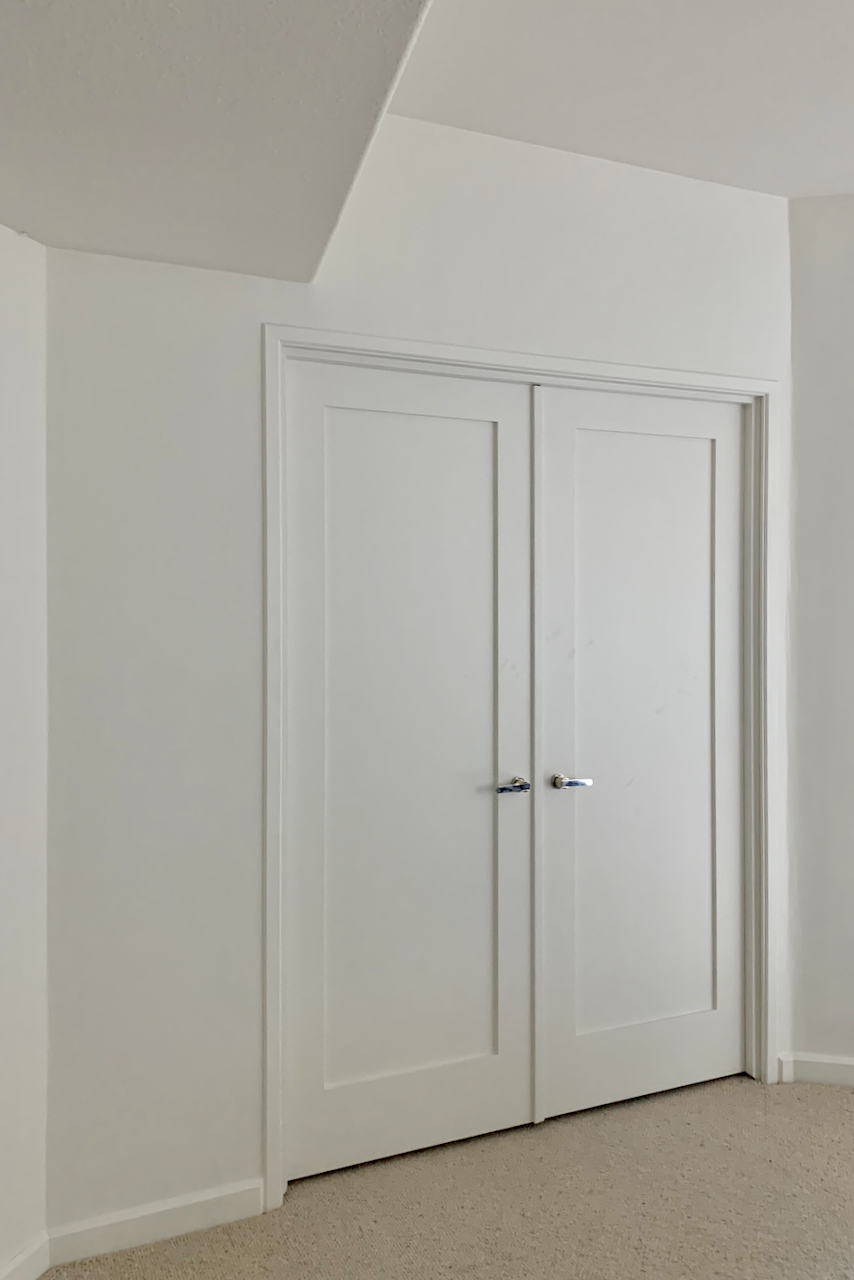 Here is BM White Dove (walls, ceilings and trim) in a sitting room next to a painted fireplace bump out. The fireplace is Iron Mountain, a muted version of BM Regent Green, one of the colors in the palette.
BM White Dove is also one of the best white kitchen cabinet colors. It works well in homes with earthy Tuscan finishes but can also work with more modern crisp white finishes.
White Dove looks good with some earthy granites, but it's important to test carefully. If the whole room (including the walls) is earthy, White Dove may look stark. Make sure to consider the whole palette when using this color.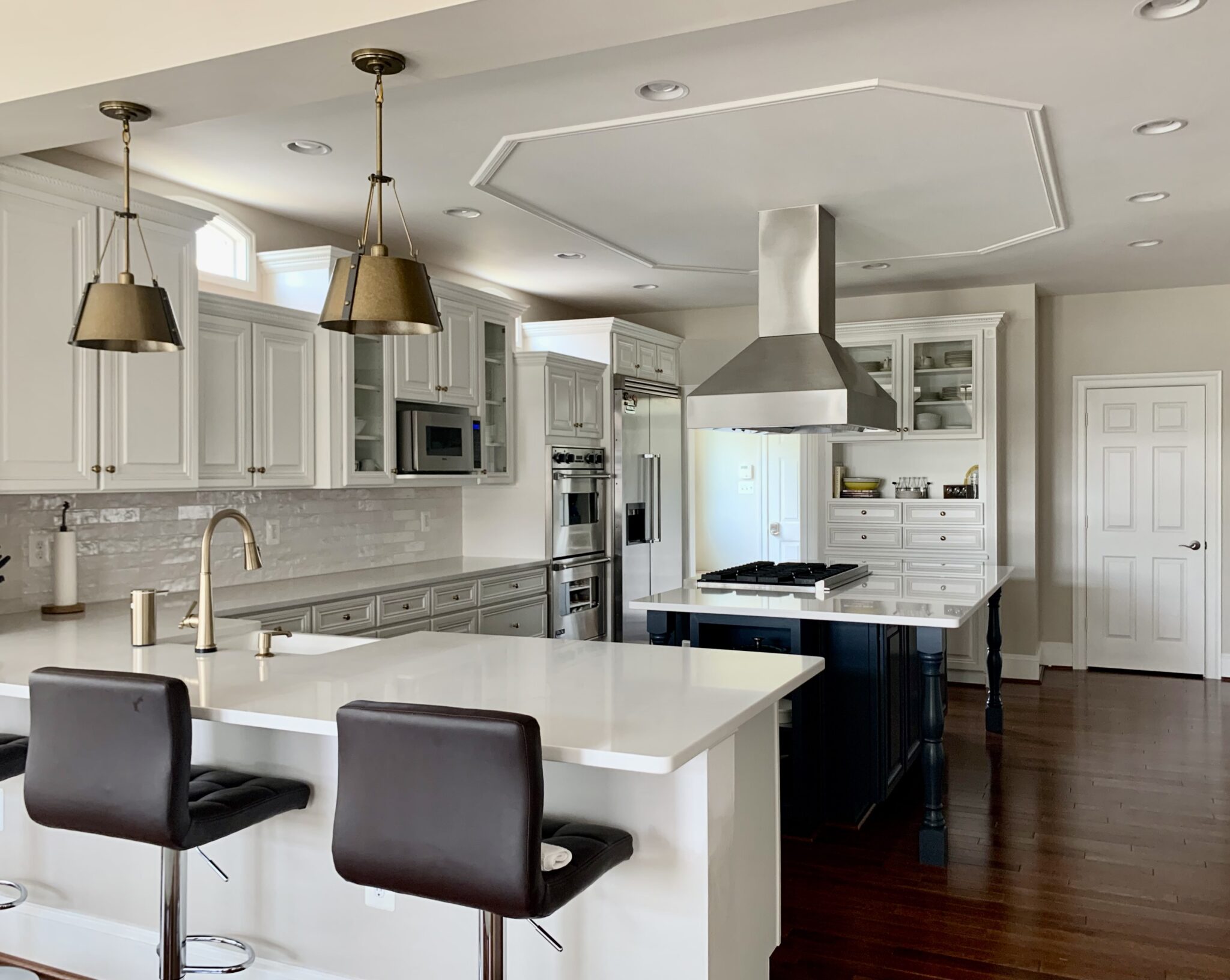 Which trim, doors, and ceiling color are best with BM COTY?
Benjamin Moore Blue Nova will look lovely with BM White Dove trim and ceilings. I'd use White Dove not only as the foundational neutral paint color for this whole-house color palette but also as the trim and ceiling color throughout the home.
Kitchen Cabinet Paint Colors – BM Regent Green and BM White Dove
White Dove kitchen cabinets are a classic option, but for a pop of color I like the idea of pairing White Dove uppers with BM Regent Green lower cabinets for a tuxedo kitchen cabinet look.
Regent Green is a very dark green that is almost black, with an LRV of 6. This is a fresh, modern twist on a classic black-and-white kitchen that won't end up looking dated in a few years.
Check out my very own kitchen with the lower cabinets photoshopped with BM Regent Green. I almost wish that this could have been the COTY!
The combination of White dove with Regent Green is incredibly dramatic. Here is one of the photos from Benjamin Moore. It may be too dramatic for many homeowners, but it takes my breath away. The complementary contrast with those warm wood floors is amazing. I had to include it. Regent Green is one of the paint colors that may take off this season!
Dining Room Paint Color – Hazy Lilac
Hazy Lilac is a fun pop of color that would work really well as an accent wall or throughout a whole room as an accent within the home. It is muted, which makes it more flexible. Painting a Hazy Lilac dining room would be a lovely option!
The Hazy Lilac color is certainly unique for a dining room, but it has enough gray in it that it looks fairly muted on the wall and keeps the space looking elegant (and fun!).
Office Paint Color – BM Antique Pewter
I love to use darker paint colors in an office, and Antique Pewter is the perfect example of a darker hue that won't be overwhelming on the wall. With an LRV of 25, this color is light absorbing but very far from black or the darker Regent Green in this color palette.
Because offices tend to be small, they are a great option for a full room accent within your whole-house color palette. Antique Pewter is a lovely, muted green with plenty of gray in it that keeps it muted on the wall. In the image below, an Antique Pewter room is pictured with monochromatic walls, ceilings, and trim.
Powder Room Paint Color – BM Pristine
Pristine, pictured on the lighter wall below with Antique Pewter, is a delicate warm pink paint color with soft pink undertones. It's a bit too pink to use as a whole-house paint color but it makes a lovely bathroom paint color.
This color looks a bit peachy on the wall and would pair really well with clean white finishes and a darker vanity.
Primary Bedroom Accent Wall – BM Blue Nova
Blue Nova would be a bit too dark and bold to use as a whole bedroom paint color, but I love the idea of using it for an accent wall. It's a rich, calming color that would be really lovely to wake up to!
Pair a Blue Nova accent wall with White Dove walls and a comforter or duvet the color of BM Topaz for a contrasting pop of color that will feel trendy but still classic.
Children's Bedroom Paint Color – BM Polar Sky
Benjamin Moore Polar Sky is a pale, crisp blue that is very similar to Sherwin-Williams' 2024 Color of the Year, Upward. We love the idea of a sky-blue bedroom room for a child.
Light blues can be tricky to use, but this one has enough gray to look muted on the wall. It's a really beautiful color that brightens up a room and helps it feel calming and inviting.
Children's Bedroom Paint Color – BM Teacup Rose & BM Honeybee
The combination of BM Honeybee and BM Teacup Rose would make a gorgeous room for a little girl! Honeybee is a soft yellow hue that is surprisingly versatile. It's muted but still has plenty of pigment, so it will look bright and sunny without glowing on the wall.
Pairing Honeybee bedroom walls with a BM Teacup Rose ceiling would be a really unique way to add lots of colors to a child's bedroom. Teacup Rose is a vibrant mix of pink and coral hues. It's bold, but pastel enough to not be overwhelming on the ceiling.
What is the best way to test the Benjamin Moore 2024 Color Trend paint colors?
You should always sample and test your paint colors, but it's especially important as you create a whole-house color scheme for your home.
The easiest way to any paint color for that matter is via SAMPLIZE. Their peel-and-stick paint samples are easy to use and true to color. And you can get them overnight!
There is no mess, and the cost is less expensive than purchasing a sample and a white poster board. Since you don't need to dispose of extra paint, it's also environmentally friendly! With Samplize you can easily see how different shades look on your unique wall.
Better still?
Samplize has put together a 2024 Color of the Year & Color Trends bundle, so you can sample all of the trending hues together. Get the bundle here.
Get 10% off your Samplize order today by using the code "ColorConcierge10" at checkout. Order today and get samples tomorrow!
Sample the individual paint colors in this BM Blue Nova color scheme by linking to the colors below:
Is BM Blue Nova a Good Color of the Year?
To answer this question, we need to consider what makes a good Color of the Year. Very simply, when you see the color it should take your breath away.
A good Color of the Year should also automatically inspire you to find places to use the color in your house. It should pair well with both earthy older trends as well as upcoming fresher trends. It should be flexible and should pair well with many types of colors.
At its core, the Color of the Year should start a new trend. And Blue Nova definitely as the potential to do that!
We think Blue Nova is a bit ahead of its time. Homeowners with neutral or black-and-white modern farmhouse color schemes may be a bit nervous about using this bold color. But it's not so bold that it can't work as an accent within a neutral home.
Blue Nova is a great step toward more colorful homes and we look forward to using it with our clients!
Key Learning Points
Benjamin Moore launched their 2024 Color of the Year, Blue Nova, and we couldn't be more excited to see where this color goes.
Blue Nova is darker, fresh blue with strong violet undertones that add depth and interest to this color.
The 2024 Color of the Year palette can also be used as a whole-house palette.
Balance Blue Nova with soft whites (like BM White Dove) and style it with the other colors in the 2024 palette.
Remember: NEVER, EVER use paint matches from a different brand than the one specified. Results are poor and there are no standards for the sheens. Even though your painter may truly believe it can be done, don't do it. See results from paint matching here.
No matter what, always test your paint colors. It's a standard best practice. Whenever I test my paint colors, they are perfect, and when I don't test they turn out wrong. Learn how to test your paint colors here.
Online Color Consulting
If you still need help with paint colors, check out our Online Color Consulting packages or an In-Person Color Consultation in the Denver Metro area.
If you liked this post, don't forget to pin!
Related Posts
We love your comments! Please note that the blog is meant as general advice, and it is impossible to give specific answers to your paint questions. If you want more specific advice, please consider purchasing a color consultation. Thank you for your understanding.