Learn all about Benjamin Moore Fernwood Green (2145-40) in this paint color review.
Benjamin Moore Fernwood Green is the kind of color that looks horrible on the swatch but when you start testing it's so pretty.
It's kind of a forgotten color. It's like the dress that looks awful on the hanger at the store and your friend talks you into trying it on…and it looks like a million bucks.
I've had so many clients shake their heads when they look at the swatch only to love the color on the wall!
This bright green paint color is a great choice for accent walls, bedrooms and offices. Any place where you want to feel relaxed and happy, Fernwood Green is a great choice.
Keep reading to learn more about Fernwood Green paint and how to use it in your home.
*This post contains affiliate links for products I use and love. If you click on some links and make a purchase, I will get a small commission at no cost to you. This helps pay for the costs of the blog, so I can continue to offer great content to our readers.
What is the LRV of Benjamin Moore Fernwood Green?
The LRV of Fernwood Green is 56.76. Since it's over 50, it's still considered reflective. It's light enough to use in many different rooms but also has plenty of pigment. LRV stands for Light Reflectance Value, which is a measurement of how light (LRV=100) or dark (LRV=0) a color is.
Is Fernwood Green warm or cool?
Benjamin Moore Fernwood Green is definitely a warm green paint color. While many green paints on the market today have plenty of gray and cooler undertones, Fernwood Green does not. It's a true, warm green that brings a lot of brightness to any space.
What undertones does Fernwood Green have?
Fernwood Green gets its warmth from yellow undertones. These keep it looking bright and happy on the wall but aren't overpowering. This color will look like a vibrant leafy green.
When should I use Benjamin Moore Fernwood Green?
There are many different ways to incorporate Benjamin Moore Fernwood Green into your whole-house color palette.
Can I try a Benjamin Moore Fernwood Green kitchen?
I love the idea of a Fernwood Green kitchen. If you love the look of traditional white cabinets but want a pop of color on the wall, this would be a bright and sunny option that won't make the room feel dark.
Just make sure to pair Fernwood Green with clean white kitchen cabinet paint. It doesn't look great with creamy whites, so instead opt for something like Oxford White and Chantilly Lace.
Is Fernwood Green good for a North-facing room?
Absolutely! One of the best things about Fernwood Green is that it can work in many different kinds of spaces. It works well in bright or dingy rooms.
It is particularly fantastic for North-facing rooms, which get cooler, grayish light throughout the day. Fernwood Green brings a beautiful warmth to this kind of space.
Is a Fernwood Green office a good idea?
A Fernwood Green office can be really beautiful! We used Fernwood Green in the client's office featured below and it completely transformed the space!
The office has north-facing walls with an ancient tree outside the window, and another house next door. We knew the room would have very low light, so we picked a color that would light up the room.
Fernwood Green looks rich and bright on the wall and gives a very mid-century modern feel to the room.
Can I paint a BM Fernwood Green bedroom?
Fernwood Green would be a really nice, calming bedroom paint color! While it's a bright green that adds happiness to a room, it's more muted than you would think and wouldn't feel overwhelming in a bedroom. 
This would look especially good paired with warm wood floors and white or light wood furniture.
Is BM Fernwood Green a good whole house color?
Fernwood Green would not work well as a whole-house paint color. It's too much color to use throughout an entire home. Instead, I like to think of Fernwood Green as an accent color.
It can be used for accent walls or used to paint a whole room to create an accent within your whole-house color palette. That's what we did with the office featured above.
The home used a BM Simply White whole-house palette and incorporated Fernwood Green and other colors as accents.
Can I use Fernwood Green for exteriors?
Benjamin Moore Fernwood Green is generally not recommended for exterior applications. It's just too bright. In direct sunlight, it will make your house glow (and not in a good way).
The only exception is painting a Fernwood Green front door. A bright green front door paint color is a great option for a dark exterior color palette.
In the client's home pictured below, for example, a bright green door adds a fun pop of color to the SW Cyberspace siding. Fernwood Green would work in a similar way.
When should I avoid Benjamin Moore Fernwood Green?
Avoid using Fernwood Green as exterior paint or for very large spaces within your home. A large open-concept living and kitchen area, for example, would probably not work well with Fernwood Green. The bright color could quickly become overpowering.
Which Colors Look Best with Benjamin Moore Fernwood Green?
Does Fernwood Green go with white?
Fernwood Green looks incredible paired with white trim and ceiling paint or white furniture. The white furniture in this client's office really pops against the green walls and lets Fernwood Green be the star of the show!
Does Fernwood Green go with gray?
Fernwood Green can absolutely work well with gray paint colors, especially as part of a whole-house color palette. In our client's home, for example, we incorporated Benjamin Moore Classic Gray and Benjamin Moore Gray Cashmere into the home. Fernwood Green adds a lovely pop of brightness to this mostly neutral palette.
Does Fernwood Green go with wood floors?
I love the combination of BM Fernwood Green and natural wood floors. My client's office has beautiful wood floors that wonderfully complement the bright green walls and bring out their warmth (which is especially important in a North-facing space like this one!).
What are the Best Trim and Ceiling Colors For BM Fernwood Green?
Opt for a cooler, clean white color for trim and ceiling paint. I like Benjamin Moore Decorator's White, BM Simply White, BM Chantilly Lace and SW Snowfall. Avoid creamy trim, which can end up looking too yellow next to the warm undertones of Fernwood Green.
What is the easiest way to sample Fernwood Green?
You should always sample and test your paint colors. The easiest way to sample Fernwood Green (and any paint color for that matter) is via SAMPLIZE. Their peel-and-stick paint samples are easy to use and true to color.
There is no mess, and the cost is less expensive than purchasing a sample and a white poster board. Since you don't need to dispose of the paint, it's also environmentally friendly!
With Samplize you can easily see how different shades look on your unique wall.
The Best Benjamin Moore Fernwood Green Alternatives
BM Fernwood Green vs BM Dill Pickle
Benjamin Moore Dill Pickle is a slightly darker, slightly warmer version of Fernwood Green. Both colors have yellow undertones, but they are stronger in Dill Pickle. With an LRV of 50.02, Dill Pickle will look darker on the wall.
BM Fernwood Green vs BM Camouflage
Benjamin Moore Camouflage is another similar green paint color. This color is just barely darker than Fernwood Green, with an LRV of 55.46. It has cooler undertones and is much more muted than Fernwood Green.
BM Fernwood Green vs BM Guilford Green
Benjamin Moore Guilford Green is a good Fernwood Green alternative if you want a slightly more muted look on the wall. With an LRV of 57.22 and more subtle yellow undertones, Guilford Green looks cooler than Fernwood Green.
BM Fernwood Green vs SW Shagreen
Sherwin-Williams Shagreen is one of the best Fernwood Green alternatives. With an LRV of 57, it's a very similar shade of green. Shagreen has strong yellow undertones and looks warmer on the wall than Fernwood Green.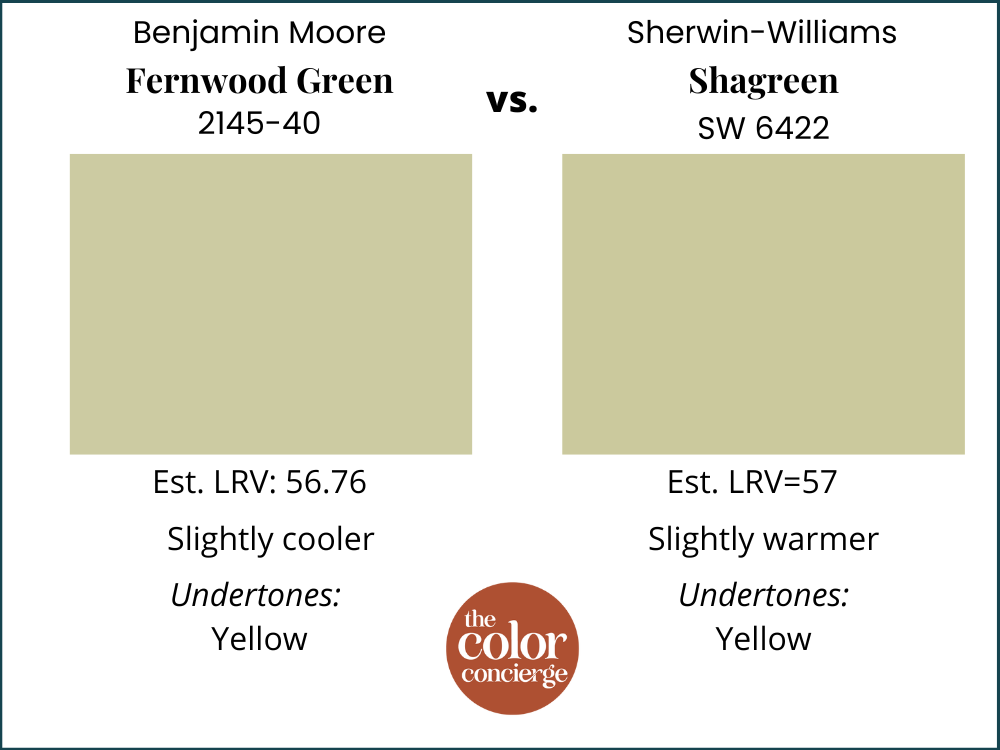 BM Fernwood Green vs Farrow & Ball Vert de Terre
Farrow & Ball Vert de Terre is a beautiful, fresh green color. With an LRV of 49, it's darker than Fernwood Green. It is also much cooler, with strong blue undertones.
Key Learning Points
Benjamin Moore Fernwood Green is a lovely bright green color perfect for adding a pop of color to a whole-home color scheme or space.
Fernwood Green has warm yellow undertones that add brightness to any space. It can really help add warmth to a North-facing room with cool light.
Fernwood Green is a great color for offices, bedrooms, dining rooms and accent walls.
Avoid using Fernwood Green exterior paint, except for an exterior front door.
Remember: NEVER, EVER use paint matches from a different brand than the one specified. Results are poor and there are no standards for the sheens.  Even though your painter may truly believe it can be done, don't do it. See results from paint matching here.
No matter what, always test your paint colors. It's a standard best practice.  Whenever I test my paint colors, they are perfect, and when I don't test they turn out wrong. Learn how to test your paint colors here.
Online Color Consulting
Still need help picking the best paint colors?  Discover our Online Color Consulting Package.
If you liked this post, don't forget to pin it!
We love your comments! Please note that the blog is meant as general advice, and it is not possible to give out specific answers to your paint questions. If you want more specific advice, please consider purchasing a color consultation. Thank you for your understanding.
Related Posts