Sherwin-Williams Agreeable Gray is arguably one of the most popular paint colors on the market today. There are so many Agreeable Gray reviews out there (including our own color review), but most of them talk about this color as an interior paint. Today, I want to talk about using Sherwin-Williams Agreeable Gray exterior paint.
So, is Agreeable Gray good for exterior projects? Absolutely! But it's important to understand that using this color outdoors in direct sunlight is very different from using it indoors. Although it looks like a nice greige inside, when you take it outside it looks like a very light, warm gray or a creamy off-white without flashes of yellow.
I love to use Agreeable Gray with earthy red brick as a siding or trim color, or even an exterior whole-house color. With an earthy palette in a very sunny location such as Colorado, Southern California, Texas, or Florida, it can also make a good exterior "white" trim color.
Keep reading to learn more about using Sherwin-Williams Agreeable Gray exterior house paint and get inspiration for your next project.
*This post contains affiliate links for products I use and love. If you click on some links and make a purchase, I will get a small commission at no cost to you. This helps pay for the costs of the blog, so I can continue to offer great content to our readers.
What Color is Agreeable Gray?
Sherwin-Williams Agreeable Gray is a warm greige paint color with green undertones and flashes of violet. It has an LRV of 60 (on a scale from 1/dark to 100/light), which makes it light-reflecting.
As an interior paint, it's actually a bit darker than many of the light gray and greige paints trending today. But outdoors it looks much brighter. Its undertones are less visible outdoors as well, thanks to the bright sunlight.
How to Use SW Agreeable Gray Exterior Paint
Agreeable Gray can look like a soft white, even a cooler white, when used outdoors. Remember: bright sun can make colors appear 4-5 times lighter and brighter compared to indoors.
Typical interior whites like Sherwin-Williams Pure White or Benjamin Moore Cloud White can look stark when used outside. So, when you want a white body color or trim color, it's almost always a better idea to reach for a darker white or greige like Agreeable Gray.
Should I try Agreeable Gray siding?
We like to use Agreeable Gray as a "white" siding color in exterior palettes. This works especially well in the Southern U.S. or in higher altitude cities like Denver and Salt Lake City where the sun is brighter.
If you want the look of a white exterior but don't want to risk your home looking overbright, SW Agreeable Gray exterior paint could be a great fit.
Can Agreeable Gray exterior trim work?
Yes, SW Agreeable Gray exterior trim can work really well! It works especially well with darker exterior siding colors or earthy brick or stone. It's a great choice for a darker white trim paint instead of using a cream color, which could end up looking too yellow.
Check out our project spotlight below (featuring my own Colorado home) for a real-world look at Agreeable Gray exterior trim.
What trim color goes with Agreeable Gray for exteriors?
You can use either dark or light trim colors with Agreeable Gray. With white vinyl windows, it's important to find a white trim color that is lighter and brighter than Agreeable gray without looking too stark. A warm off-white, such as SW Westhighland White, can pair well with the warmth of Agreeable Gray. You can also use Agreeable gray as both the body and the trim color. As in the example below you can use a darker color for the roofline. If the window frames are black, I'd prefer to use Agreeable Gray for the trim if the body is Agreeable Gray. Otherwise, a dark window trim would look too heavy paired with black window frames.
Does Agreeable Gray exterior paint go with red brick?
Yes, definitely! Agreeable Gray is a fantastic choice for a red brick exterior color palette. It can work as trim paint for a brick house but can also pair well as siding on a home with brick accents. Its warmth complements the brick really well, while the green undertones balance out the red color of the brick. You can see Agreeable Gray with red brick in our project spotlight below.
Two Sherwin-Williams Agreeable Gray Exterior House Color Schemes
Explore Agreeable Gray exterior paint in action in these two client project spotlights.
Oklahoma Agreeable Gray Color Scheme
This home in Oklahoma is classic, timeless and so gorgeous! The burgundy red brick that makes up most of the exterior is earthy and rich. I couldn't wait to start updating this home's exterior color palette.
We knew that we didn't want to paint the brick on this home – it was so beautiful we simply needed to find the right colors to accentuate the stonework. We chose Sherwin-Williams Agreeable Gray exterior paint for the siding around the windows and the garage door. It significantly brightens this home's palette but still looks natural.
Because the windows were white vinyl and not paintable, we picked an off-white trim color (SW Westhighland White) to tie in with the windows.
I absolutely love pairing dark paint colors with red brick (so much that I shared my favorites in the blog post linked). In this home, we chose SW Anchors Aweigh – a deep blue-black color that is really beautiful – for the fascia, soffits, front door, and garage door trim.
The colors in this home's exterior palette look really beautiful together. This home shows that you don't have to paint your brick for a timeless and stylish exterior look.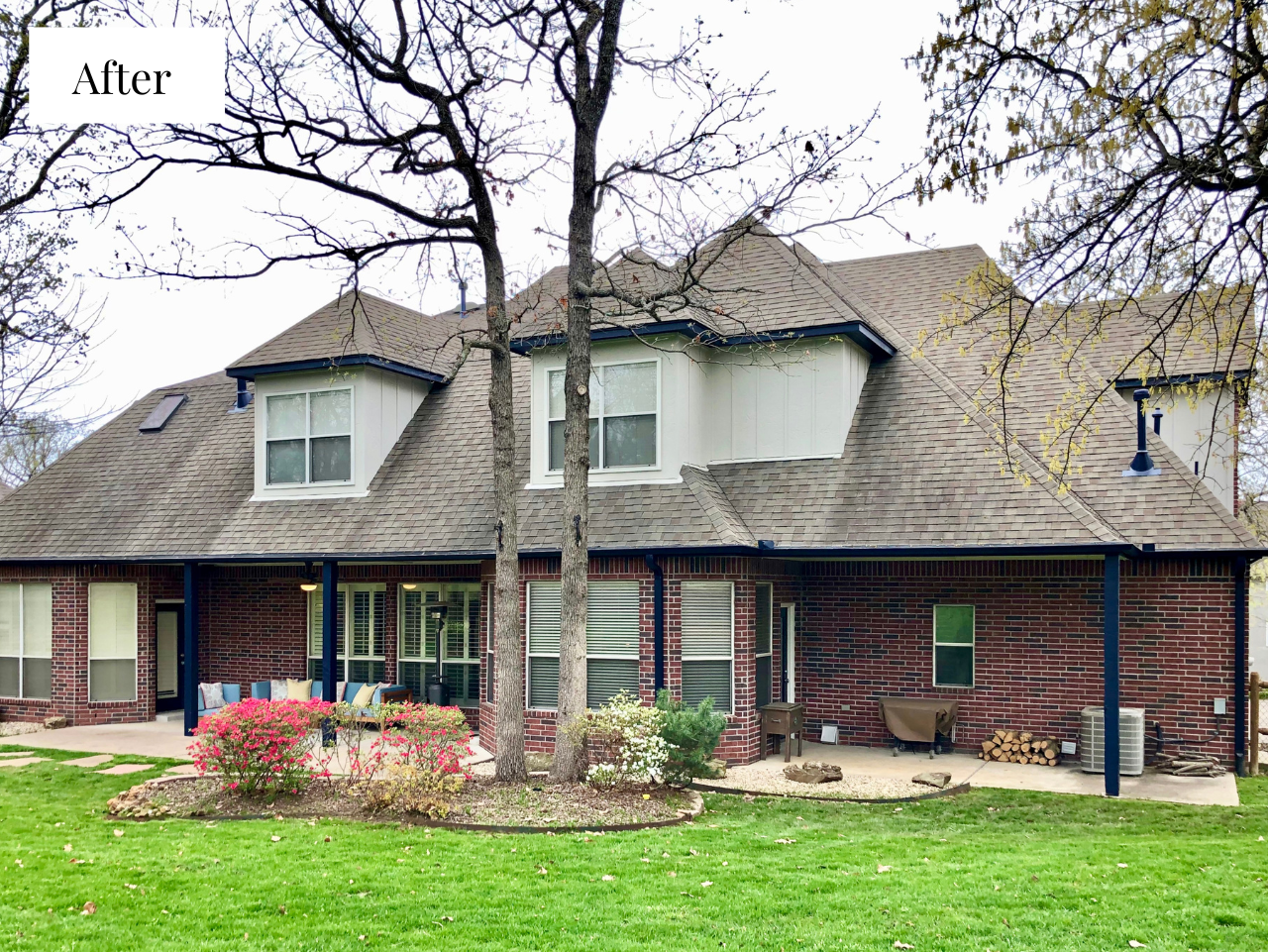 Colorado Agreeable Gray Color Scheme
This second home is a bit closer to home…literally because it's my home in Colorado! I often use this as an example of how the sun can make colors look so much lighter. Because we're at a higher elevation, colors like Agreeable Gray can look much more like a white paint color when used outside.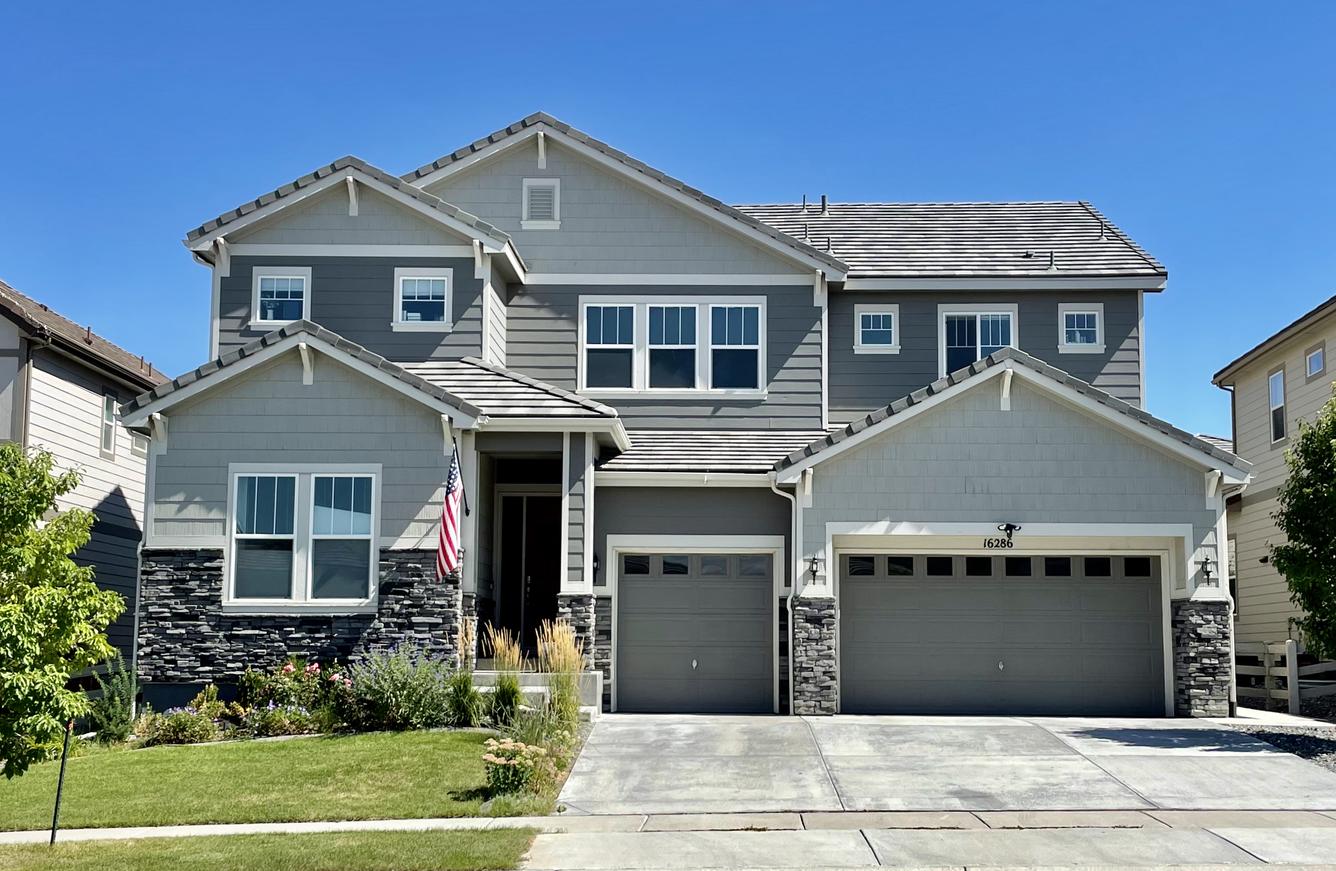 This home was a new build and features the color palette that I was given. But I love the combination of darker siding colors with Agreeable Gray exterior trim, especially in sunny places like Colorado, California, Texas, and Florida.
The home's architectural shingles are painted with Sherwin-Williams Dorian Gray. While Dorian Gray seems like a beige, it's actually a lighter version of Gauntlet Gray, a gray with violet undertones. Sherwin-Williams Gauntlet Gray is used for the lap siding and garage doors.
When paired with this darker palette (and used in the bright sunshine), Agreeable Gray makes a wonderful white trim color. The palette is finished up with a Benjamin Moore Caliente front door (one of our favorite front door paint colors), which ties in with the beautiful flowers in the front yard.
What's the best way to sample Agreeable Gray exterior paint?
Thinking about using Sherwin-Williams Agreeable Gray exterior paint? It's important to never assume a color you like on a computer screen or fan deck will look right on your home – especially when you're using that color outdoors.
We always recommend that you test paint colors on your house because lighting can completely change the colors.
In the old days, this meant we painted a large poster board with sample pots and a huge mess. Now we have 9X14" Pre-Painted peel-and-stick paint samples from SAMPLIZE. Check out the SAMPLIZE website here.
Get 10% off your Samplize order today by using the code "ColorConcierge10" at checkout. Order today and get samples tomorrow! Click here to sample Agreeable Gray paint.
Key Learning Points
Sherwin-Williams Agreeable Gray may be a more common choice for home interiors, but it can absolutely be used as an exterior paint, too!
SW Agreeable Gray looks much lighter outdoors, especially if you're in a Southern part of North America or you live in an area of high elevation. It can look cooler and grayer further North and on overcast days.
Agreeable Gray siding can work really well if you want an exterior white color palette but don't want your house to be too stark or bright.
Try Agreeable Gray exterior trim with dark or earthy color palettes. It looks especially lovely with other warm gray body colors or red brick color schemes.
Remember: NEVER, EVER use paint matches from a different brand than the one specified. Results are poor and there are no standards for the sheens. Even though your painter may truly believe it can be done, don't do it. See results from paint matching here.
Online Color Consulting
Still need help picking the best paint colors? Discover our Online Color Consulting Packages.
If you liked this post, don't forget to pin it!
Related Posts:
We love your comments! Please note that the blog is meant as general advice, and it is not possible to give out specific answers to your paint questions. If you want more specific advice, please consider purchasing a color consultation. Thank you for your understanding.