We have the most amazing home office paint colors to maximize your productivity! Pick office paint colors with inspiration from art, window coverings, tile, or carpet colors in place.
In the last months, COVID-19 changed the way we work.  Many office workers are now working from home. We reached out to friends and family about their home office transition to learn how they work best. This post was written by Maddie Camilli!
We learned that most people don't have the luxury of an extra room for a home office.  They find space in their kitchens, bedrooms, staircase landings – anywhere a laptop will fit.
We found five common home office improvements from the people we spoke with. Here are five key elements to a beautiful and productive home office, which include 12 perfect paint colors for your office.
Designated Workspace, Clutter-Free
Everyone needed a space for their work without the distractions of family and home. As Alexa, a teacher in Denver put it, "The hardest part is that now working from home all of the "home to-dos" are in the background distracting me."
A clean and minimal workspace was important to eliminate distraction and procrastination.
Lots of Light
Everyone surveyed said that having a window helped increase productivity.
A window helps you feel connected to the outside world while stuck inside. It offers beauty and a sense of calm during the hectic workday, and natural light to keep your mind alert yet at ease.
It also helps to have another source of light in your workspace for extra light. A lamp is functional, and it offers an opportunity to style your space!
Comfortable Chair
Since you spend so much time at your desk comfort is critical. A comfortable seat was a high priority and a standing desk was a popular option. Without a standing desk, I take my laptop to a built-in shelving unit in my apartment and stand in front of it when I get tired of sitting!

Personal Style
It is very important to style your workspace to WANT to be in it for the most productive results. Great ideas are inspirational art pieces, photos, and plants to add life to the room.
Jessy in Denver said, "plants, artwork, and music all add to my space feeling comfortable, inviting, and aesthetically pleasing." Jessy also uses an essential oils diffuser, which can help stimulate, calm, or please your senses depending on the mood you are looking for.
One of the best parts of working from home is that you have all your favorite things with you.  Set up coffee, a sweater, slippers, and noise-canceling headphones to maximize your comfort!
Perfect Home Office Paint Colors
A neutral office color keeps your senses quiet so that you can focus on your task and maximize productivity.  Pick your home office paint colors with inspiration from art, window coverings, tile or carpet colors in place as well as functionality.
Black and White Paint Colors
For highly visual computer-based professions a plain white or black might be the best color for your space. Think about the black screen on an iPhone. It beautifully frames the color on the screen.
This is Michelle's old office from her Boulder home. She loved having a black office because, as a color consultant, she is constantly looking at colors and a black backdrop helps her read colors without extra visual interference.  She also enjoyed the way the black set off the greenery outside. The black walls are painted with Benjamin Moore Onyx (2133-10).  The Trim and ceiling were painted with Chantilly Lace (OC-65).
Kathryn from Boulder is an avid seamstress and a white room helps her see her fabrics in true color. Her office is painted with Sherwin Williams Pure White (SW 7005).
 Restful Soft Neutrals
Liz is a Denver math tutor. A warm beige is pleasant to work in, not to mention it casts a flattering light on screen! Her paint color is Benjamin Moore Manchester Tan (HC-81).
This bedroom study space belongs to a teenager – perfect for online learning. Her paint color is Benjamin Moore Abalone (2108), a gray with barely-there violet undertones.  Abalone is an iconic Benjamin Moore paint color!  For more photos of this bedroom check out 14 Fabulous Bedroom Paint Colors.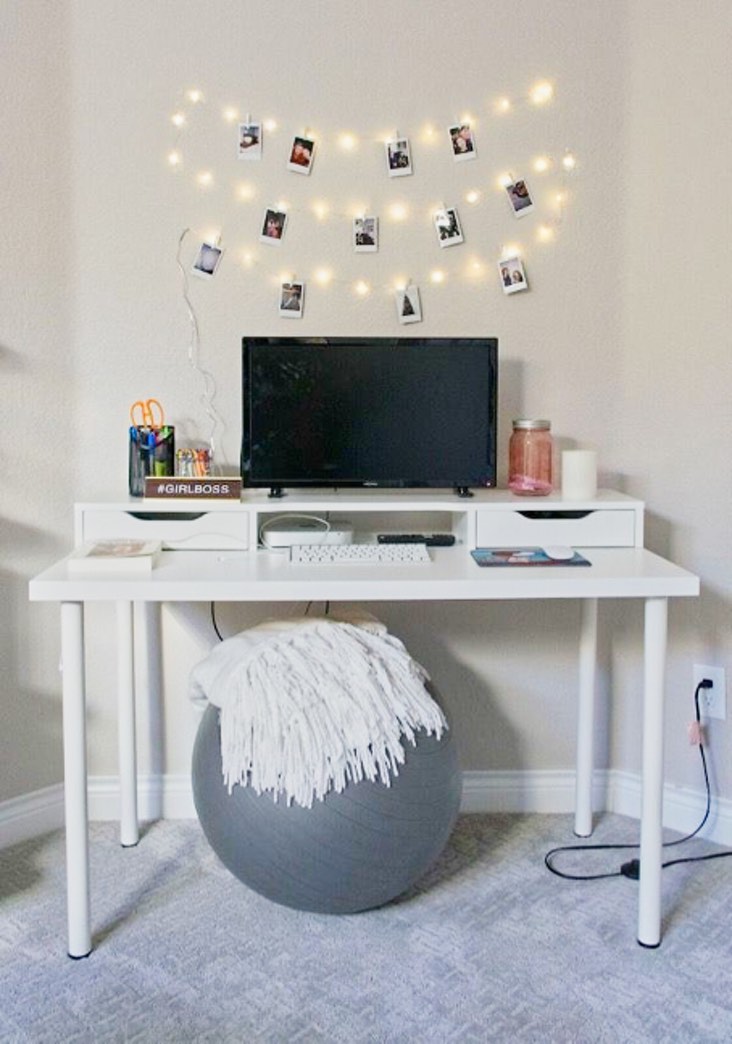 Betty is a kindergarten teacher in Tacoma. She prefers to face the wall to minimize distractions. Her walls are painted with one of our favorite blue-grays, Benjamin Moore Stonington Gray HC-170.
Rebeca is a technical writer for an airline. She loves the peaceful blue in her home that keeps her calm and motivated all day long.
We often pick gray with blue undertones instead of light blue paint colors to keep the blues from going electric.  Her paint color is Benjamin Moore Shoreline 1471. We love the way it looks with her beige tile and counter stools with pink undertones. Check out her gorgeous fresh flowers!
Serene Dark Neutral Home Office Paint Colors
Michelle's office is in a stairway loft. When she designed the space, she wanted to keep the black element she loved from before. Since her office is now in a common area where black would have been too heavy, she picked Sherwin Williams Agreeable Gray (SW 7029) for the walls and Iron Ore (SW 7069) for the accent wall.
The Paris photos on the accent wall tie into the color of the walls and carpet add warmth to the room without becoming distracting.  A beautiful rug under her desk pulls it all together.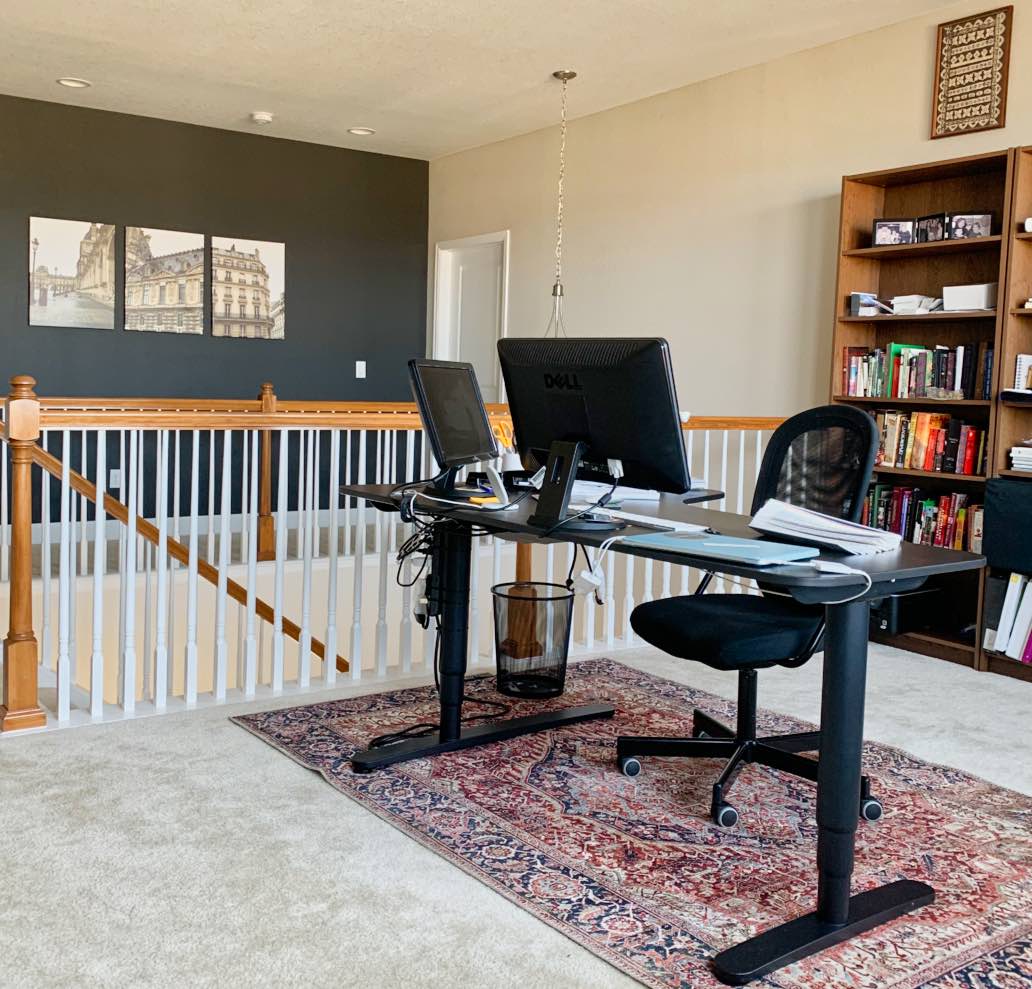 This restful dark hue keeps your eyes focused on your computer.  This lovely office has Benjamin Moore Kensington Blue 840 walls.
The Verdict
The best way to be productive in a home office is to pick a designated space and keep it clutter-free.  A comfortable chair, lots of light and your favorite things will make it a happy place you are glad to spend time in. The perfect paint color will update an office in a flash!
No matter what, don't forget to test your paint colors.  It's a standard best practice.  Whenever I test my paint colors, they are perfect, and when I don't test they turn out wrong.
NEVER, EVER use paint matches from a different brand than the one you will use.  Results are poor and there are no standards for the sheens.  Even though your painter may truly believe it can be done, don't do it. See results from paint matching here.
Online Color Consulting
If you still need help with paint colors, check out our Online Color Consulting packages or an  in the Denver Metro area.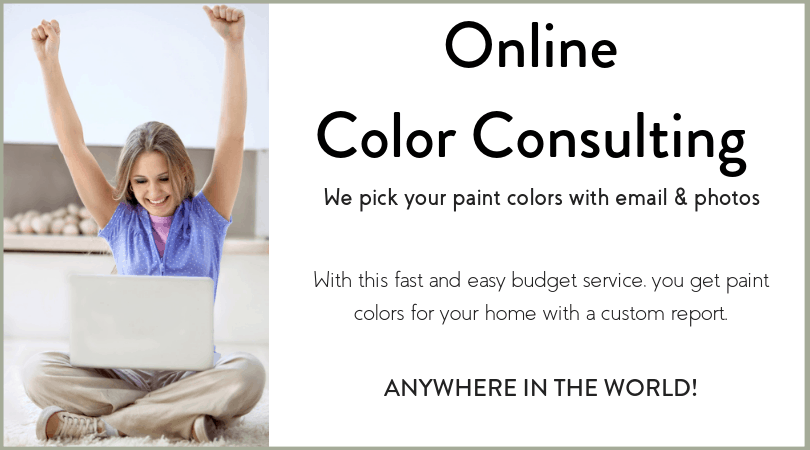 Don't Forget To PIN!
Related Posts:
The Best White Paint Colors for Dark Rooms
Our Five Favorite Benjamin Moore Whites (and how to use them)
We love your comments! Please note that the blog is meant as general advice, and it is not possible to give out specific answers to your paint questions.  If you want more specific advice, please consider purchasing a color consultation. Thank you for your understanding.