A classic rug is the foundation of a room – it defines and grounds the space and pulls all the pieces together.  We often build our paint palette from the rug, but you don't need to spend a fortune when you pick a rug.  We have picked 9 affordable classic and timeless rugs at budget prices.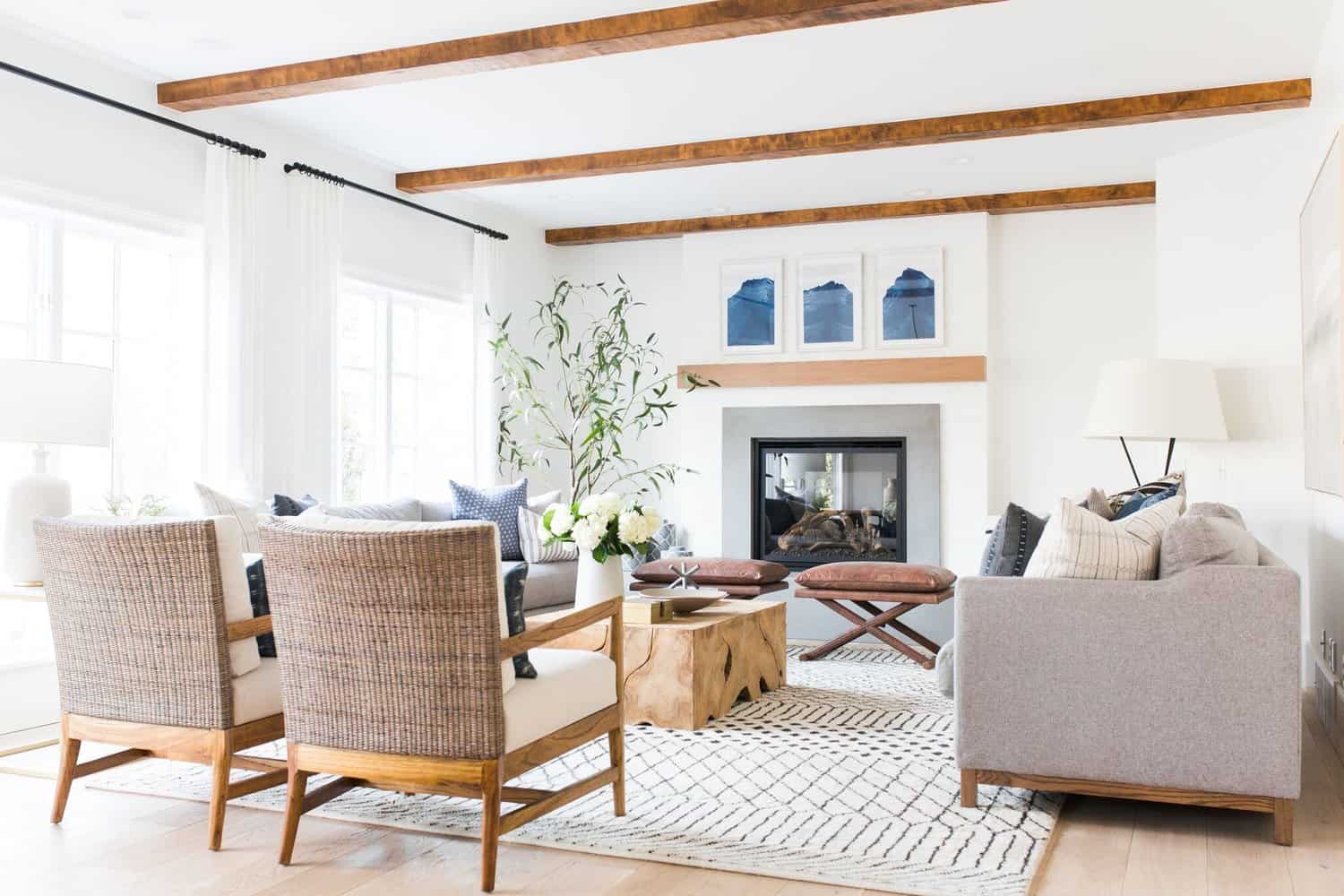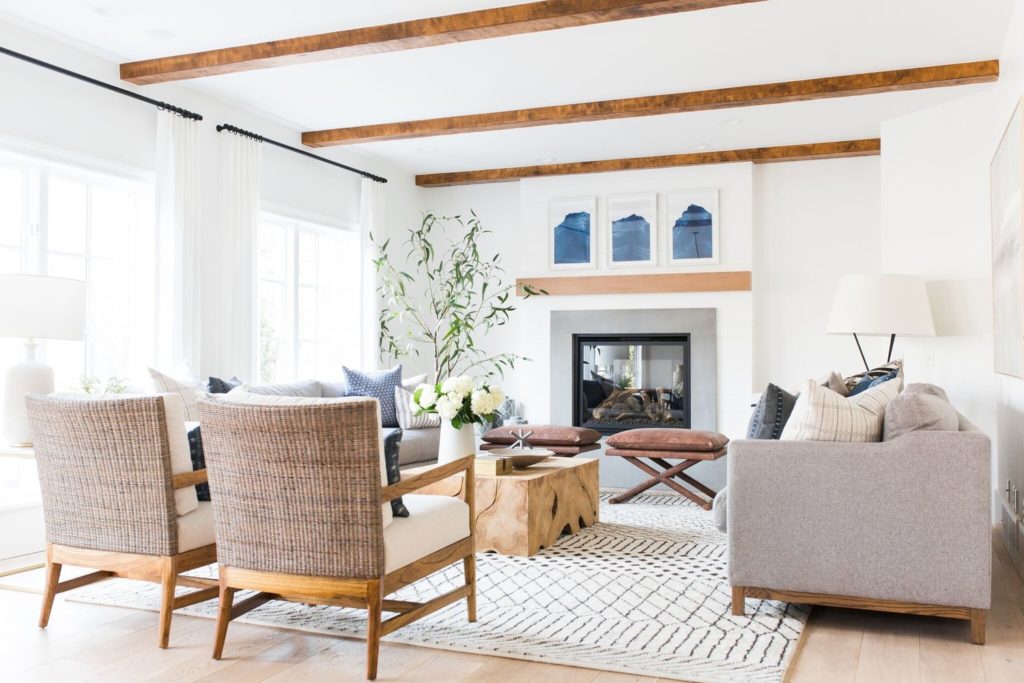 How to Pick a Classic Rug
The first step is to choose the right size.  The biggest design mistake that I see is that people pick a rug that is too small.  Most living rooms and dining rooms should have at least an 8×10 rug with at least 18 inches between the rug and wall.
For a dining room, the table and chairs should all be on the rug.  In a living room, at least the front legs of the furniture should be on the rug,  In a bedroom, 2/3 of the bottom of the bed should be on the rug with 18-24 inches of rug surrounding the bed.
The rug you pick should have the color palette that makes you happy. If your room is near the kitchen, it should match the hard finishes (countertops and backsplash).  Also consider your fireplace tile or stone colors in a living room.
Once you pick a rug, use the colors in the rug as a starting place for your wall colors.
9 Affordable Classic Rug and Paint Color Pairs
These are favorite affordable timeless rug and paint color pairs. Most of the rugs come in several sizes, and remember, the paint colors are just guidance.  You could pick another color from the rug for your room.  As always, don't forget to test your paint colors!
Safavieh Handcrafted Moroccan Geometric Premium Wool Area Rug 
The first rug is one of my favorites and pairs beautifully with Hale Navy (HC-154) for a dramatic room.  Consider creamy white or blue gray sofas with a warm wood coffee table for the room.  You can use Hale Navy as an accent wall, or paint the room if you have enough light. Learn about how to work with a dark wall color here.
Safavieh Kids Collection Handmade Barcode Stripe Wool
This classic rug isn't just for kids, and we paired it with Sherwin Williams Zurich White (SW 7636), a soft pale green-gray that will read almost white.  It's a beautiful color!
nuLOOM Vintage Camilla Area Rug, Beige
I love this neutral yet multi-colored rug, a hard combination to find.  Pair it with Benjamin Moore Manchester Tan (HC-81), a light beige with soft green undertones that looks amazing almost anywhere.
Safavieh Madison Collection Bohemian Chic Paisley Rug
This rug is soft and lovely.  You could pair it with Sherwin Williams Windy Blue (SW 6240) or Benjamin Moore Dreamy Cloud (2117-70), a light lavender for a more ethereal look.
Safavieh Adirondack Collection Rustic Bohemian Rug
This pretty light colored timeless rug paired with Benjamin Moore Abalone (2108-60) would be great for a sunny room and fresh look and field. Abalone is a soft gray with purple undertones.
Handmade Wool Reversible Modern Moroccan Kilim Rug
This is a bold and magical combination.  I love a room painted black, but it has to have lots of windows and natural light, with white molding and ceilings. This rug comes in several different colors, but this is my favorite. We've paired it with a soft black, Benjamin Moore Onyx 2133-10.  Learn about how to work with a dark wall color here.
Persian Rugs Distressed Cream
This creamy classic rug has splashes of color and looks slightly distressed.  You can pair it with the Benjamin Moore classic, Revere Pewter HC-172, or push your boundaries and paint with Benjamin Moore Tranquility  AF-490.  Either way you can't miss.
Safavieh Montauk Collection Handmade Flatweave Geometric Cotton Rug
This graphic rug would be a hit in a living room or bedroom.  I found three perfect Benjamin Moore blue colors to match the rug: Wolf Gray (2127-40), Marilyn's Dress (2125-60) and the color I've been dying to use because of the name, Cheating Heart (1617)
.
Safavieh Arizona Southwestern Diamond Geometric Ivory and Beige Rug
For a super-swank monochromatic look, pick this classic rug with Benjamin Moore Edgecomb Gray (HC-173).  The texture will set this room apart.  Use off-white Simply White for trim (satin) and ceiling (flat), and add organic textures such as wood and fur with black accents.
The Verdict
A classic rug is the perfect place to start when you pick your paint colors.  Any of these rugs would look gorgeous in a modern interior.
Don't forget to test your paint colors! Check out "How to Pick Paint Colors LIke a Pro".
Online Color Consulting
If you still need help with paint colors, check out our Online Color Consulting packages or an in the Denver Metro area.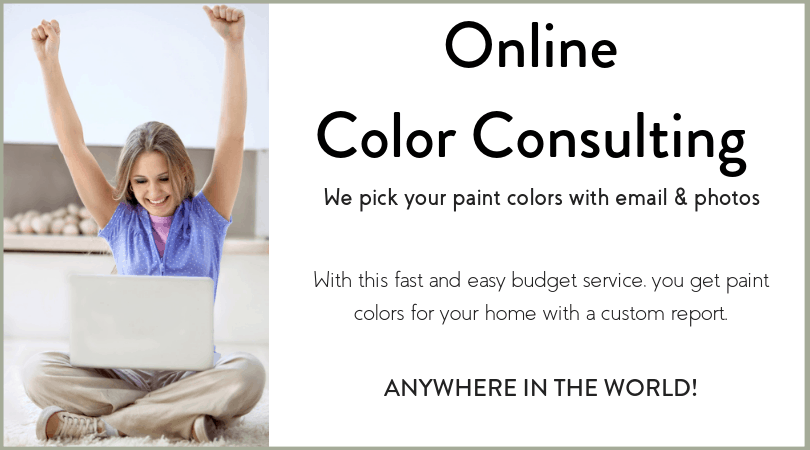 Related Posts
The Ultimate Guide to Perfect Accent Walls
5 Best LVP Floors & Why They're Better than Hardwood