If you are planning a kitchen renovation, consider a Butler's Pantry for a hard working space that adds storage and function with a high end look.
What is the Purpose of a Butler's Pantry?
Traditionally, a butler's pantry was used as a staging area between the kitchen and the dining room for the butler and footmen to serve dinner.  In the old days, butlers would lock away the silver in their pantries, and sometimes even sleep in them!  Today's butler's pantry is a practical space that adds extra storage for glasses, china, and silverware.They are the jewelry boxes of kitchen design.
What Makes a Butler's Pantry?
Butler's pantries usually have the following elements
The hard finishes such as cabinets, floors and countertops are usually the same or complementary to the adjoining kitchen.
They repeat the colors and styles of the kitchen.
Upper cabinets have glass doors for a sparkly jewelry box look.
Designed for beverage service with places for coffee or wine with beverage refrigerators.
Often have sinks and dishwashers for early cleanup.
The Coastal Butler's Pantry
This butler's pantry is part of the series about the online coastal cottage renovation that we completed for a client in Rhode Island, including the kitchen and exterior makeovers.
Our beautiful space has a microwave as well as a place for beverages such as wine and coffee service.  We tied in the butler's pantry and the kitchen by using the same cabinets, hardwood flooring, hardware and honed granite countertop.  We highlighted the space by using Sea Salt, SW 6204, a beloved light green paint color.  The SW Extra White trim matched the cabinet color.
The butler's pantry is a great place to keep a beverage cabinet.  Here we have a coffee maker and a wine rack. I hope to have a butler's pantry one day!
Some butler's pantries are attached to mud rooms like this one.  We love the view to the mudroom entrance with a classic checkered tile floor and a pair of repeated schoolhouse lights.
Get The Look
The coastal cottage butler's pantry has classic and timeless details.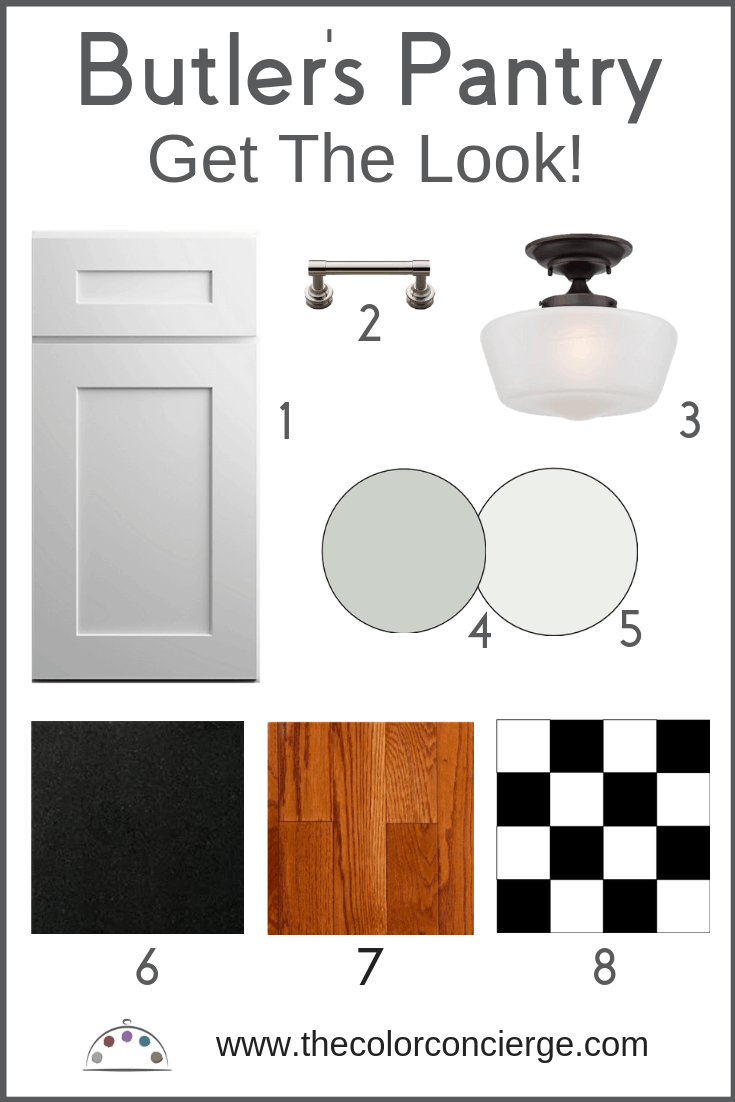 Decora Harmony Full Overlay Door SW Extra White / 2.Asbury Satin Nickel / 3. Schoolhouse Light / 4. Wall Paint, Sea Salt, SW 6204 / 5.Trim & Cabinet Paint, Extra White SW 7006 / 6. Absolute Black Honed Granite  7. Mid-Toned Hardwood Floor / 8. Checkered black and white floor.
More Butler's Pantry Ideas
This is one of my favorite butler's pantries ever, and it has it all.  Great storage and practical work space with great lighting make it a thing of beauty.
Green kitchens are big this year, and this gorgeous pantry fits right in. The beautiful linear chandelier elevates the space.
Butler's pantries often connect rooms, and I love this view of the arches from the room.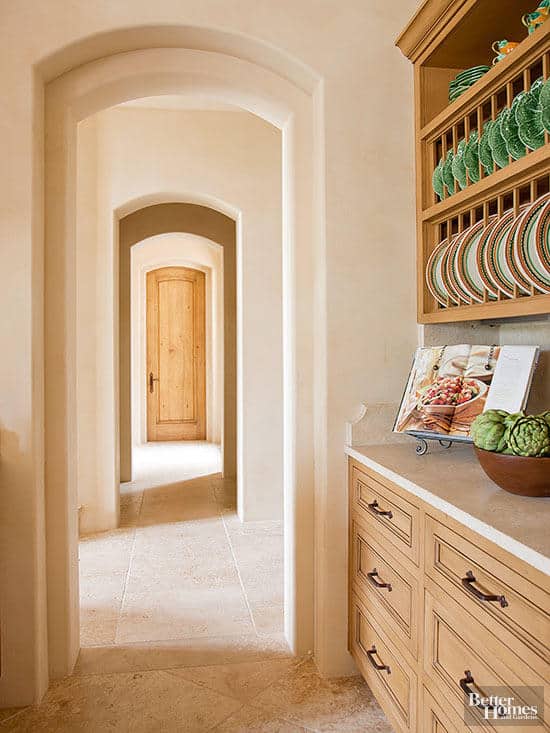 This butler's pantry has tons of storage with a view to an elegant dining room.
I love the way that Studio McGee adds butler's pantries that peek into the kitchen. And the ladder!
I'm in love with this blue and green butler's pantry, off a kitchen from Plain English, a British bespoke kitchen and cabinet designer.  It will never go out of style!
This second butler's pantry from Plain English illuminates the space.  I would love to see the rest of this house.
The Verdict
Butler's pantries are hard working and beautiful spaces for entertaining and family meals. The butler's pantry in our classic coastal cottage was a hit for our homeowners with classic touches, and more butler's pantry ideas show how you can design your own butler's pantry. My next house WILL have a butler's pantry!
Related Posts:
Our 5 Favorite Benjamin Moore White Paint Colors
Coastal Cottage Kitchen Makeover
12 Timeless Kitchen Finishes for a Kitchen Remodel
Online Color Consulting
If you still need help with paint colors, check out our Online Color Consulting packages or an In-Person Color Consultation in the Denver Metro area.