If you are looking for creative bedroom ideas, or just strapped for cash, discover our take on five DIY headboard trends and how I ended up with mine.
Hi- Maddie here! Since Michelle and I both write for the blog, we feel it is important to let the audience know who is writing to them! A little background on me: I am 24 years old, live in Boulder, Colorado with my boyfriend (Pete) and my dog (Rosco) and I'm a color consultant with The Color Concierge. I recently earned my undergrad from CU, Boulder in Studio Art and Art History. Fun fact- Michelle and I have known each other since I was ten years old! Now working together as adults has brought us closer together and a beautiful company has been created off a strong foundation. Thanks for reading and enjoy!
Last fall, Pete, Rosco, and I made the jump to get a place of our own. With the move, we built a slightly-more adult life for ourselves and discovered the need to upgrade our home too.
This is no easy feat, especially when you are early-twenty-somethings with a restaurant job (him) and starting a job with a brand-new business (me). BUT we decided to devote most of our energy to our bedroom first because we wanted a personal, comforting space we felt proud of.
Our First Investment – The Bed
The first step was to upgrade our mattress from full to a very nice queen size. We bought it from a local store, Urban Mattress in Boulder, CO.
They were nice enough to take pity on our tiny budget and throw in the $40 bed frame for free! Since we spent most of our money on the mattress, we had to deal with the visual elements of the space more creatively. In other words, we didn't have a headboard, and we didn't have enough money to get one.
Below we shared several trendy budget headboard solutions from other bloggers across the world. We list pros and cons of each solution, and how I found the perfect headboard for my bedroom.
The Repurposed Headboard
I adore this trend, which could include anything from an old door to driftwood to antique windows. When done well, there is something elegant and endearing about taking an object out of its element and repurposing it, especially if it is an antique.
PROS:
It adds an element of surprise to your room.
This style is especially great for minimalists on a budget because it doesn't look cluttered and the headboard can stand on its own, no extra decor needed (compared to The Wallpaper Headboard or The Gallery Wall Headboard).
If you love thrifting or perhaps already have a large ornate piece of wood lying around, this is the headboard trend for you!
CONS:
You need a larger space so that it doesn't overwhelm the room.  With a small wall, a large statement piece can crowd the area. Ample empty space on both sides of the piece allows it to stand appropriately on the wall (unless your bed is in a corner).  Our room was small, so we decided against it.
The Wallpaper Headboard
Place a mural, decal, or wallpaper on the wall behind the head of the bed in place of a headboard.
PROS:
It's quick and easy! Forget building, hauling hundreds of pounds of material, or hours and days spent in agony over the perfect collection of items for your design.
This is a unique solution. The trend is fairly new and still pretty unconventional, and it is a ton of fun to think outside the box with your home decoration. You can even make it personal by having the artwork done by someone special (a specific artist or designer).
A great option if you are on a budget. Instead of a new piece of furniture, you simply paint or decorate one wall.
It's easy to clean. No furniture or shelves to gather dust.
CONS:
On its own, it can look flat. This was the biggest reason I did not pick this style for my own room. Most headboards can be pretty bulky, and since you replace the presence of a bulky object with a 2-D image, it can end up lacking dimension. With proper nightstands, plants, lamps, and additional decor, this look becomes more interesting and lovely, but remember, I am on a budget!
The Gallery Wall Headboard
Another trend all over Pinterest was The Gallery Wall Headboard. This is a collection of photos, art, or objects hung on the wall above the bed.
PROS:
It's easy! No heavy furniture, just smaller objects you can hang on the wall yourself.
You get a personal touch and are the curator and the wall is your museum!
CONS:
Without a traditional headboard, a gallery wall can look sparse and unfinished, especially without nightstands or accessories.  Traditionally the headboard is the statement piece that links together the bed and the wall. Overall, collages work well above a headboard, but cannot stand alone. Compare the two below.
The DIY Headboard
This headboard is exactly how it sounds, and includes anything that involves saws, drills, fabric or construction.
PROS:
If you have the time, patience, and resources, this project can be fun and and a great learning experience.
Your result is personal I mean, you literally get to build something with your own two hands, and the live with the beautiful result every day!
Perfect for a budget — this solution can be more cost effective that buying a new headboard.
It's rewarding.
CONS:
This can be a huge project. This can be a pro or a con depending on how much time you have, how much space you have to work, and if you have the right resources (tools and a teacher or adequate skills). This was the reason I ruled out this style for myself. A little hammer-and-nail action is fine, but with my recent move into a small apartment, I'm not trying to go into a major construction project.
If you don't know what you are doing, it can look homemade, and not in a good way.
Can you believe they made this gorgeous headboard from scratch?
The Wall Hanging Headboard
This headboard idea is all over Pinterest and was the final inspiration for my bedroom (stay tuned for next week's reveal!). It can include one or more rugs, curtains or fabric pieces attached to the wall, or a rug on a rod behind the bed, fabric draped over the top of the bed like a canopy, etc.
I love this look because, it is an intentional way to connect the bed, the wall, and even the ceiling into one space. The soft nature of fabric is comforting, welcoming, and creates a sanctuary out of the space it cradles. The fabric wraps in multiple directions and holds dimension when hung properly. This solution is versatile, as you can incorporate personal objects into the look. It has a personal quality to it and is much more special as part of your decor.
The Verdict
There are many ways to create a beautiful headboard on a budget, whether you are just starting out, or you love the look.
Online Color Consulting
If you still need help with paint colors, check out our Online Color Consulting packages or an In-Person Color Consultation in the Denver Metro area.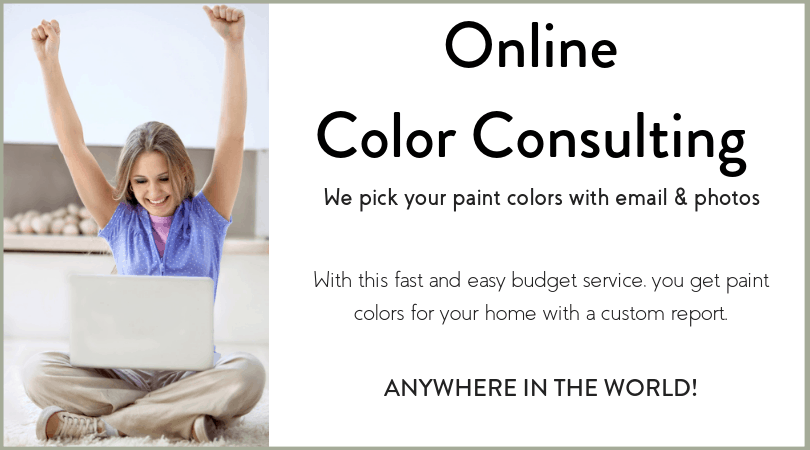 If you liked this post, don't forget to pin!
Related Posts
Zen Bedroom Makeover for a Single Mom
The Ultimate Guide to Perfect Accent Walls