Lately, I've been exploring Farrow and Ball paint colors, and Setting Plaster (#231), (Sample Here) was my first try.  Since Farrow and Ball paints aren't widely available in the United States, I haven't spent much time with this brand of paint colors.  Many cities have local dealers, or you can purchase online.
After I tried Farrow and Ball paints in my house, I fell in love.
Farrow and Ball paints are more than a color. they are an experience.
What I learned was that the colors are saturated, vivid and so full of pigment that words or photos can't show the difference. This paint is simply brilliant and softly glows in the most amazing way.
I've read so much about how you can't duplicate these colors with paint matches or similar colors in other brands. This is true, they simply are not the same. Neither words nor photos do these colors justice.
Setting Plaster is a beautiful pink blush paint color with highly saturated pigment. I can't tell you what the LRV is because Farrow and Ball don't publish it. Based on similar colors, I estimate an LRV of 55.
Please note that the photos in this post come from a Color Concierge projects, specifically my house. I love the way the photos show the color. We don't color edit the photos so that you can see what these paint colors are really like.

Do you use less Farrow and Ball paint?
My analysis isn't scientific, but I normally would have expected to use three gallons of high-end paint in this room. I used two gallons. I needed two coats to cover Agreeable Gray, which is a paint color with LRV=60. The Farrow and Ball paints are considerably more expensive, but I needed less than they said I would.
Setting Plaster for Interiors
You can use Setting Plaster as a wall color in any room in your house, but it looks especially lovely in a bedroom.  It looks beautiful paired with warm woods such as Cherry or Mahogany.  This is the guest bedroom in our home, and we have been using it for the last couple of weeks.  This paint color is more intense than anyone would expect, but still muted and really nice to wake up to.  I asked my husband his opinion of the color and he said it was a warm beige.  I see it as a muted pink.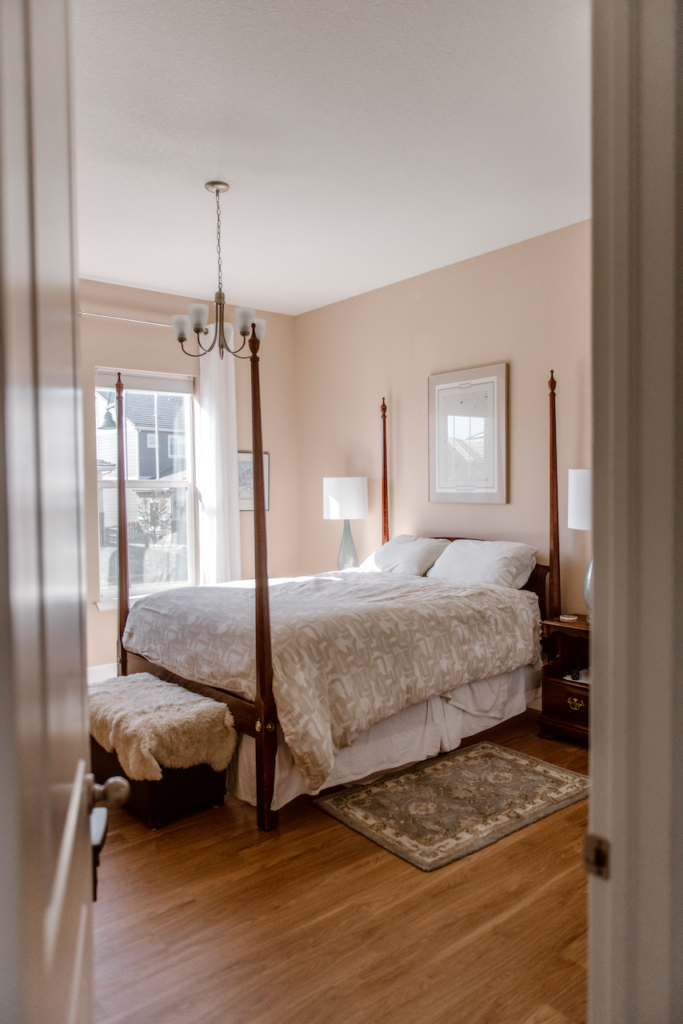 Best Trim and Ceiling Colors for Setting Plaster
Consider clean whites and off-whites such as Benjamin Moore Chantilly Lace, Oxford White, or Cloud White ceilings (flat sheen), trim, and doors (satin sheen).  We like to use the same white for the ceiling as the trim.  
For Farrow and Ball equivalents, consider a clean white such as Farrow and Ball All White or an off-white like Farrow and Ball Windbourne White.
Don't use an overly creamy white or it will look dingy paired with Setting Plaster.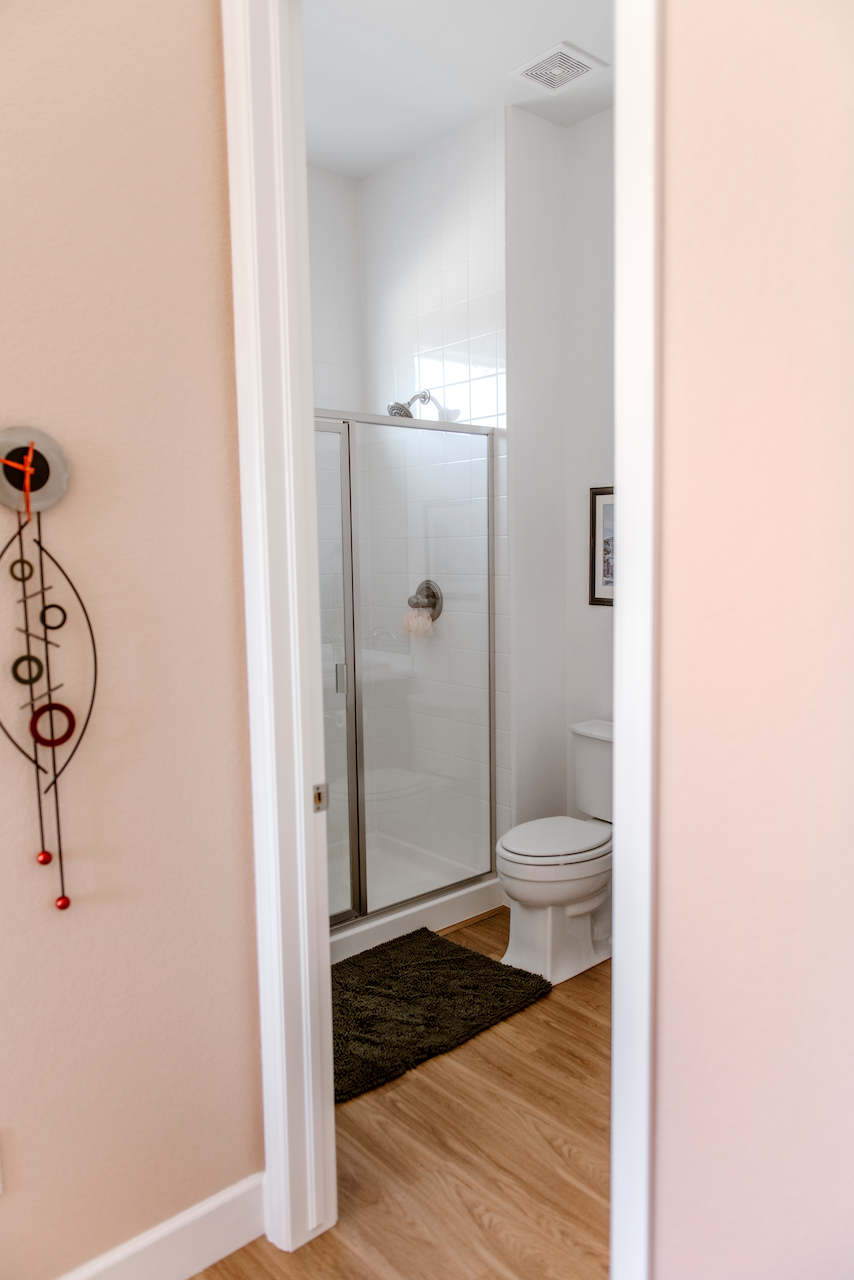 Setting Plaster vs. Similar Colors
According to easyrgb.com (a great tool for paint matches), the most similar colors to Setting Plaster are Benjamin Moore Boudoir or Sherwin-Williams Classic Sand.  Another color that gives the same look and feel is Sherwin-Williams Pinky Beige, though it's not exactly the same.
Which Colors Look Best with Setting Plaster?
Muted tan and greys with green undertones provide subtle contrast with Setting Plaster and cool down the rich warm tones.
Consider warm grays with green undertones such as Benjamin Moore Chelsea Gray shown in the cabinets below.  This is the ensuite bathroom in the Setting Plaster bedroom.  You can see the Setting Plaster reflection in the mirror.
I also love the way the crisp white and beige bedspread looks with the paint color.  The beige is similar to Benjamin Moore Manchester Tan.
Muted blues such as BM Britannia Blue, blue-greens such as Benjamin More Raindance, and greens such as SW Evergreen Fog look great with Setting Plaster. Yellows can look discordant if they are too light. Pick mid-toned rich colors to pair with Setting Plaster.
If you have too many pastel colors, the combination could end up looking like an Easter Egg, and not in a good way.
Setting Plaster for Exteriors
This color would make a really amazing front door! In fact, I think I'm going to try that on my house (don't tell my HOA). I'm not sure about this color for exterior siding. The biggest obstacle is price. At the time I wrote this article, Exterior Farrow and Ball Exterior paint is only available in one-gallon cans. If you want to paint your house pink, and you can afford it, then this would be a really bold and amazing choice.
Can my painter match Farrow & Ball Setting Plaster to Sherwin-Williams or Benjamin Moore?
Nope, it can't be done. It's not even close. You won't get the beautiful glowy-ness, but the color might be similar. If you want the Farrow and Ball experience, just buy the paint. Learn more about matching paint colors here.
What is the easiest way to sample Setting Plaster?
We always recommend that you test paint colors in your house because lighting can change a color completely.
In the old days, this meant we painted a large poster board with sample pots and a huge mess.
Now we have SAMPLIZE, 9X14″ Pre-Painted peel-and-stick paint samples.  Check out the SAMPLIZE website HERE.
The Verdict – Setting Plaster
Setting Plaster is a rich and saturated warm pink paint color! It is highly pigmented and looks fabulous for interiors. If you are looking for an exterior pink paint color, this would be beautiful, but be advised it will be expensive.
No matter what, don't forget to test your paint colors. It's a standard best practice. Whenever I test my paint colors, they are perfect, and when I don't test they turn out wrong. Learn how to test your paint colors here.
NEVER, EVER use paint matches from a different brand than the one specified. Results are poor and there are no standards for the sheens. Even though your painter may truly believe it can be done, don't do it. See results from paint matching here.
Online Color Consulting
If you still need help with paint colors, check out our Online Color Consulting packages or an In-Person Color Consultation in the Denver Metro area. Or, explore 8 easy ways to choose paint colors.