2022 Interior Paint Color Trend Forecast
We predict that 2022 interior paint color trends and palettes will become much more colorful than we have seen in the last 20 years. Specifically, lighter versions of jewel tones.  We have seen this trend in requests from our clients, a visit to the 2021 Maison&Object Interior design show in Paris, and the 2022 Sherwin-Williams and Benjamin Moore Colors of the year.
It's not that whites and grays will go out of style tomorrow, but colors will be introduced more frequently. An accent wall, a sofa, draperies, cabinet colors, décor… Trends don't take over overnight, but over the next few years I expect colors to take a more prominent place in our homes
Increased Requests for Colorful Palettes from our Clients
In the last 3 months, many of our clients have asked for palettes with colors.  A client said she didn't want grays or whites; she wanted colors that made her heart sing!  Now that is a statement.
As an example of the palette, think of late 19th century impressionist paintings.  Water Lily Pond, Green Harmony by Claude Monet shows exactly the colors our clients have started to request in our consultations.
How to Use 2022 Colorful Trends in Your Home
My favorite use of colorful palettes is to have a soft white, a neutral or a muted color in the common areas with more colorful accent walls, bedrooms, and dens.
Since white paint colors have become more popular, new builds are most often painted white as a standard wall color.  The challenge to whites is that they can look cold if you don't add warmth to them with wood, green plants, art, and accessories.  The rooms can also look bottom-heavy if you don't use tall floor-to-ceiling curtains or decorate with art in the upper half of the walls.
Maison & Object Featured Colorful Trends
We saw so many rich color combinations at Maison&Object: soft organic greens with rust, lovely yellows and warm saturated pinks.
In the last few months, several of our clients have asked for yellow paint colors for the interior and exterior of their house.  My grandmother used to say that yellow was the luckiest color to paint your house.  There was lots of yellow at Maison&Object.
2022 Sherwin-Williams Color of The Year is On-Trend
Evergreen Fog SW 9130 is soft and muted, and so natural.
2022 Benjamin Moore Color of The Year is Spot-On!
October Mist (1495) is lovely and perfect for an office, accent wall or bedroom.
The Verdict
Expect to see more colorful accents in today's modern white and soft neutral palettes as colors start to shift to the forefront.
No matter what, don't forget to test your paint colors.  It's a standard best practice.  Whenever I test my paint colors, they are perfect, and when I don't test they turn out wrong. Learn how to test your paint colors here.
NEVER, EVER use paint matches from a different brand than the one you will use.  Results are poor and there are no standards for the sheens.  Even though your painter may truly believe it can be done, don't do it. See results from paint matching here.
Online Color Consulting
If you still need help with paint colors, check out our Online Color Consulting packages or an In-Person Color Consultation in the Denver Metro area.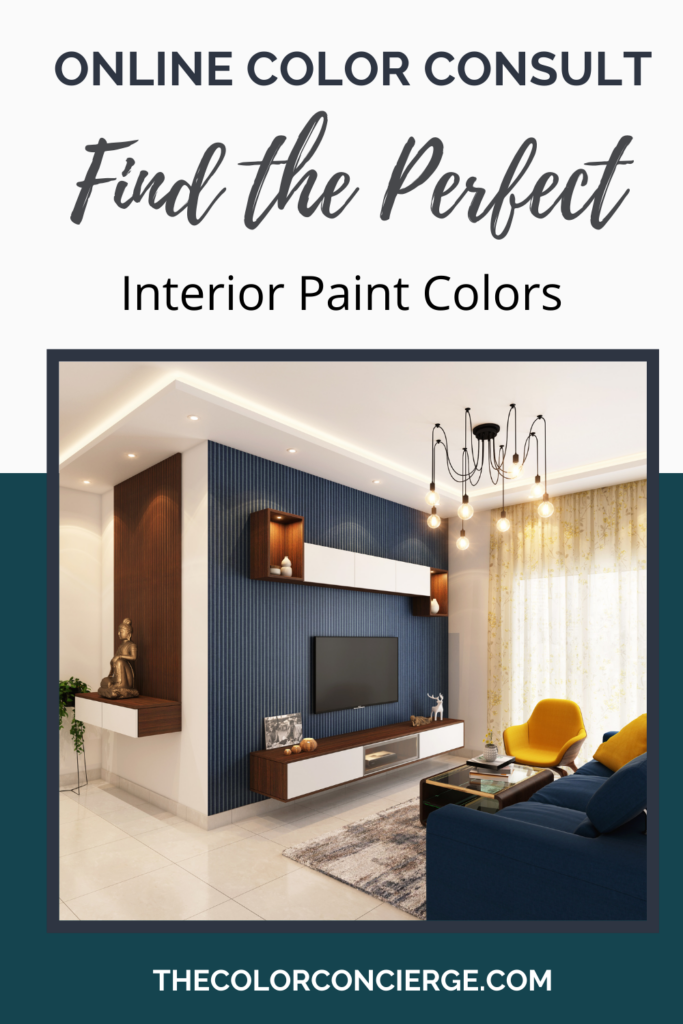 [button link="https://thecolorconcierge.com/online-color-consulting/" type="big" color="orange"] Hire Us![/button]
Don't Forget To PIN!
We love your comments! Please note that the blog is meant as general advice, and it is not possible to give out specific answers to your paint questions.  If you want more specific advice, please consider purchasing a color consultation. Thank you for your understanding.